I have seen enough to realize that Corning Glass (NYSE:GLW) is nothing more than one huge value trap. I personally got trapped twice and it simply does not make sense to own shares in GLW any longer.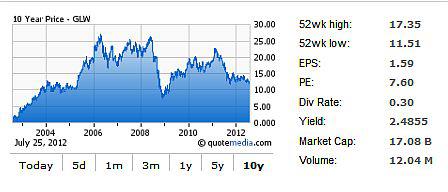 I am taking my losses and running far away, and fast!
A Seeking Alpha "Market Current" this morning has confirmed my opinion, again:
7:54 AM More on Corning (GLW +0.25%) Q2: net profit dives 39% to $462M, hurt by a fall in prices for its LCD screens - albeit more moderate declines - and the unsettled global economy. CEO Wendell Weeks says Europe and China are concerns. For Q3, expects LCD glass volume to grow in "the low double digits" Q/Q. Glass price declines should remain moderate.
I have heard nothing but double-speak from Corning for almost 2 years now. I realize that the company has a sweet balance sheet and pays a small dividend, but hanging on to this stock makes absolutely no sense to me any longer. It is a value trap, dead money, and a losing investment.
Read the dismal or lackluster earnings report right here on Seeking Alpha. As far as I am concerned, it is more of the same disappointments we have seen for far too long.
I refuse to mince words any longer with this stock as it has disappointed repeatedly. As the economy in other parts of the world has weakened, Corning has too much exposure to ward off the downturn. The continued weakness in flat panel TVs, as well as the continued pricing pressure will continue to squeeze not only revenue growth, but margins and earnings as well.
My personal opinion is to dump shares of Corning and put the money to work elsewhere. I chose to put the money into AT&T (NYSE:T) and Johnson & Johnson (NYSE:JNJ), both of which pay higher dividends and have a much greater chance to reward shareholders.
By redeploying dead money, an investor can make that money work for them rather than just sit and deteriorate.
Think about it. It makes sense to me.