On July 5th, Statoil (STO) faced an impending labor lockout at its Brage, Heidrun, Huldra, Oseberg C, Oseberg East, Oseberg Field Center, Oseberg South and Veslifrikk installations. The lockout was supposed to take place on the 9th of July. Instead parties entered into negotiations. This resulted in a reduction of production at those installations, but Statoil resumed normal operations within the next 10 days.
After reaching a 52 week high of $28.95 on March 1st, Statoil's stock has lost 18%. Low oil and natural gas prices continue to pressure earnings, suggesting trailing P/E ratios are too low as earnings per share will likely decline from the current TTM average of $4.01.
Statoil is known as a Norwegian company, and that notoriety has negatively effected share price. While many of its core North Sea oilfields are in production declines, management has quietly and effectively worked hard to ensure production growth through 2020.
Most recently, Statoil made two high-impact discoveries off the coast of Tanzania. These discoveries represent a potential 9 trillion cubic feet of gas. Statoil has also entered shale exploration in Australia. These efforts demonstrate a desire by management to diversify away from their North Sea operations. The location of these discoveries and explorations make it likely the company can take advantage of growing demand in Asia.
The following graph, courtesy of the U.S. Energy Information Administration, projects growth for all Asian nations excluding Japan and South Korea: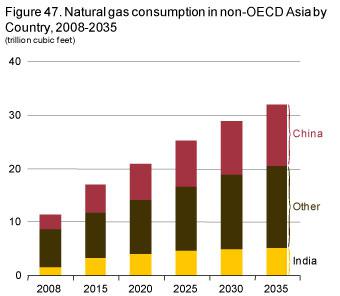 These recent developments add to a natural gas infrastructure that includes Snoehvit, the only liquid natural gas production plant in Europe.
Monday's sell off allowed me to swap shares in SeaDrill Limited for shares of Statoil. I bought myself a yield approaching 4.5% and hope to add to the position by selling cash secured puts.
Statoil has shown some price support around $20, and also resists a share price higher than $29. This trading channel offers investors a chance to increase their returns by selling puts as Statoil approaches $20 and selling calls as the price breaks $28.50. Buying back calls is always an option should share price run up past $29.
Should the market continue to pressure Statoil shares, investors can buy this under-appreciated company with a management team dedicated to increasing production into year 2020 and risk less capital. US investors should be aware that the dividend is subject to a 15% withholding tax.
Disclosure: I am long STO.