Nokia (NYSE:NOK) recently delivered mixed earnings, which surprised investors, on the positive side, thanks to the company's strong net cash balance of €4.2B ($ 5B) at quarter's end, marginally down from €4.9B ($5.9B) in Q1 2012, in spite of a net loss of €1.41B ($ 1.7B) in the quarter.
The stock bounced on the news, to give back most of its gains the following day.

Click to enlarge
(chart from Google Finance)
In this article we'll quickly examine why Nokia's cash position may represent, because of its agreement with Microsoft (NASDAQ:MSFT), a kind of investor's trap, unless the new Nokia Windows Phone 8 ranges start delivering stellar results in the next few quarters.
IPR strongly contributed to Nokia's better-than-expected cash performance
Nokia received in Q2 about € 400 million prepayments from existing IPR licenses, a trend which doesn't sound sustainable going forward:
Stephen A. Elop

Thanks for [the] question, Simon. So the EUR 400 million is an example of using the patent portfolio and our relationships prudently to help manage through a period where cash is very important to us. As we go forward, we'll be looking for similar opportunities related to the patent portfolio also related to other things we can do to generate cash and make sure that we continue to have the financial resources necessary. But I wouldn't take the EUR 400 million at the beginning of a specific pattern or so forth. It's something that we have to work on in different ways every quarter. It's not something that sustains just as it stands.
Being perfectly aware of the importance of maintaining a strong cash position while it is navigating through a challenging restructuring, Nokia intends to use several strategies (including, in our opinion, suspending the annual dividend, which recently cost the company about € 742 million) to support its turnaround:
Stephen A. Elop

We continue to look at opportunities to sell noncore assets such as real estate properties. We plan to prudently take advantage of the strength of our patent portfolio, and we are focusing heavily on the management of our net working capital in support of this effort.
In spite of all these intentions, some analysts were not impressed, as reflected by MKM Partners in its recent report:
The €4.2bn in net cash at the end of 2Q12 could be gone within two years, with half the burn due to operating losses and half due to restructuring related outflows.
Here is a quick look at Nokia's debt, which shows that the first maturities will be in 2014 (emphasis added):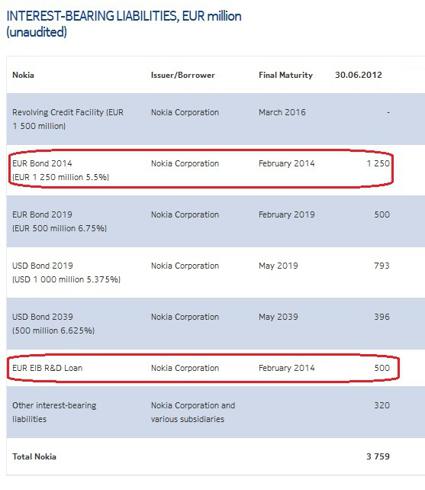 Click to enlarge
(chart from Nokia s IR, click to enlarge)
Nokia's 2014 and 2019 Eurobonds closed last Friday at 95.87 and 87.37, respectively, with a YTM of 8,44% and 9,41%.
Microsoft's marketing contribution to Nokia
So far, Microsoft paid Nokia about $750 million for participating in the Windows Phone project. In this time frame, Nokia sold about 7 million handsets, which translates, for Microsoft, to a cost of about $107 for any new Nokia Windows Phone user acquired.
While it is difficult to know exactly how much Nokia is paying Microsoft for its software, rumors in the industry seem to indicate about $15 per unit. A quick back of the envelope calculation shows a deficit of about $ 645 million (€ 535 million) in Nokia's favor, at least so far, from the agreement.
A potentially lose-lose premarital agreement
If we could consider the Nokia-Microsoft contract as a premarital agreement, it would probably represent one of the worst ones ever written, in case things don't work as expected. According to Nokia s filings, Microsoft's long-term platform support payments and Nokia's royalties should almost match in the longer term, as Nokia committed to a minimum sales target:
Over the life of the agreement, both the platform support payments and the minimum software royalty commitments are expected to measure in the billions of U.S. dollars. The total amount of the platform support payments is expected to slightly exceed the total amount of the minimum software royalty commitments.
Asymco ran the exercise to calculate how many Windows phones Nokia should sell in the next few quarters to balance Microsoft' s marketing contribution:
This ramp would result in 210 million Windows Phones shipped over about three years. It would also generate nearly $3.2 billion in "royalties" for Microsoft offsetting $3.25 billion in "platform support" payments by Microsoft to Nokia.

There are many assumptions in this, royalty rate and length of contract chief among them, but the key question should be a sanity check: is this a feasible product ramp. It's certainly far faster growth than Apple has been able to achieve. On average Apple obtained about 160% quarterly y/y growth. It also exceeds the growth rate that Samsung has been able to achieve (165 to 170 million smartphones shipped from a standing start three years ago). It implies 150 million units shipping in the third year of sales and nearly 50 million in a peak quarter. It assumes perhaps as much as 20% market share in smartphones in 2014. It's certainly ambitious.
Unless Nokia becomes a very successful story, and pretty soon, both Microsoft and Nokia are at risk of hitting a brick wall in their agreement, and that's probably going to happen around 2014.
At the start of 2014 Nokia will need to repay, or better re-finance in the market, more than €1.7B ($2 B), at a time when Microsoft could also send an expensive bill to pay, unless Nokia has captured a large share of the smartphone market. Using some sort of lateral thinking, we could say that there's already a $645 million (€535 million) liability hidden in Nokia's balance sheet because of poor WinPhones sales figures, so far. It is not surprising that Nokia is already exploring new approaches to the European market in an attempt to push sales quickly.
Microsoft, on the other hand, might find itself holding a large "credit" with a company with no other choice but bankruptcy to restructure itself (including rejecting an agreement that makes Microsoft the preferred OS for its up-market devices) - unless, of course, it decides to acquire Nokia, having already "spent" most of the purchase price to secure Nokia as a partner.
In this negative scenario, it is hard to decide which partner would pay the worst price from the agreement. Nokia, however, doesn't sound like having a plan B in place, as diverting sales to a different OS, assuming it might be contractually possible, would be a risk of landing a higher bill from Microsoft.
Elop's prepared remarks confirm it's all about Lumia Windows Phone
After wasting more than a thousand words (and a few minutes of your time) in an attempt to prove that Nokia has put itself in a position where its only option, to avoid collapse, is to start selling a lot of Windows phones (still an unproven OS in the market place), we've realized that there is a much easier way to summarize what Nokia is going through, thanks to a simple "word cloud" created from Nokia's CEO prepared remarks during the conference call: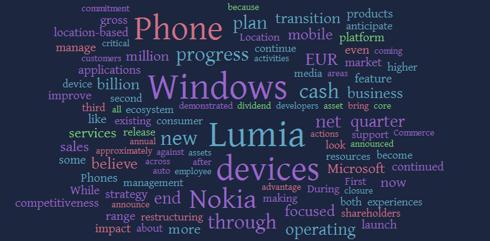 Click to enlarge
The words with the greater prominence are, as anyone might have expected, Lumia and Windows Phone. That's the main message to the market: Nokia's survival is all about successfully transitioning to a leadership in the smartphone business, thanks to the new Lumia Win8Phone. That's also the inflection point investors should be looking for, before betting on Nokia's turnaround.
Disclosure: I have no positions in any stocks mentioned, and no plans to initiate any positions within the next 72 hours.