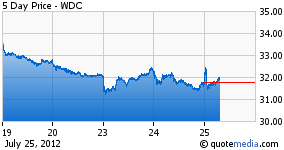 Western Digital (NYSE:WDC) is expected to report Q4 earnings after the market close on Wednesday, July 25, with a conference call scheduled for 5:00 pm ET.
Guidance
The consensus estimate is $2.47 for EPS and $4.25B for revenue, according to First Call. The company topped estimates last quarter, however, guidance was disappointing and management's comments indicated a softer demand outlook. Coming into the quarterly results, most analysts lowered HDD estimates for Seagate (NASDAQ:STX) and Western Digital (WDC) due to continued weakness in the PC market.
On its Q3 earnings call, Western Digital announced that the impact of the Thai flood was wearing off and that Hitachi's GST operations had been successfully integrated into the business as a subsidiary. Hence, the company sees plenty of upside opportunities for its business. For Q4, Western Digital guided revenue of $4.2B-$4.4B. TAM, or total available market, for the quarter is expected in the range of 155M-160M units. The company believes that there is sufficient capacity in the industry to support this demand. Together, R&D and SG&A spending are expected to be approximately $500M. The tax rate will be roughly 9%. Management also expects non-GAAP EPS of between $2.35-$2.55. Guidance is for Q4 capex of $357M and FY12 capex of approximately $750M. Management expects cost pressures to continue, which will be driven by rare earth materials, logistic costs, foreign currency exposure and underutilization of assets due to the lingering effect of the Thailand flood.
Analyst Views
Deutsche Bank expects Q4 results to be in-line with consensus, but believes guidance will be very conservative after Seagate's flat TAM commentary. The firm believes Street estimates on Western Digital also remain too high and expect guidance to be below consensus. The one potential positive not reflected, in Deutsche's view, is Western Digital's $1.5B stock buyback, which has the potential to add $1.00-$1.40 to FY13 EPS.