Apple (AAPL) reported Q3 results yesterday.
Highlights are:
Revenue: $35 billion, +22% y/y
Gross margin: 42.8% vs 41.7% y/y
EPS: $9.32 per share, +19.6% y/y
International accounted for 62% of the quarter's revenue
iPhone shipment: 26 million, +28% y/y
iPad shipment: 17 million, +84% y/y
Mac shipment: 4 million, +2% y/y
iPod shipment: 6.8 million, -10% y/y
The board also declared a cash dividend of $2.65 per share, payable on August 16th to stockholders as of August 13th
What I liked: Solid result, robust Mac sales, and no slowdown in China.
Best June Quarter Ever
Apple recorded the highest June quarter revenue and earnings ever, driven by robust iPad and iPhone sales. iPad shipments achieved an astonishing 78% y/y growth, driven partially by the education sector as reduced iPad 2 prices are especially attractive to the K to 12 markets. In addition, enterprise customers also showed strong adoption of the iPad. According to management, iPad numbers in the Fortune 500 more than tripled over the past year.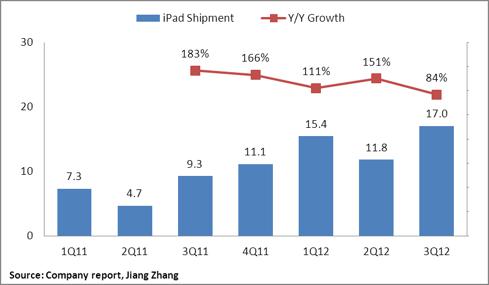 Click to enlarge
iPhone achieved a robust 28% y/y increase in shipments despite the upcoming iPhone 5. In addition, Apple added several regional carriers to expand iPhone distribution to over 250 carriers in over 100 countries. Enterprise customers are continuing to adopt iPhone as they gradually phase out RIM's (RIMM) Blackberry devices. According to management, the number of iPhones in the Fortune 500 has more than doubled over the past year.
Macs Are Still Kicking
Despite the global softness in PC shipments that made IBM forecast a 1% contraction for the June quarter, Apple's Macs are still kicking with 2% y/y growth in shipments. The 4 million Mac shipments last quarter was a new record for the June quarter. Heading forward, Mac shipments could continue to defy global PC softness as Apple introduced an entirely new MacBook lineup with faster process, graphics, memory, storage and USB connectivity. The new 15 inch Macbook that features Retina Display, all flash architecture and quad core process should continue to attract customers, especially in the education space. I note that education transactions were especially large during the quarter with Rutherford County of North Carolina purchased 6,000 MacBook Air to support its digital learning environment.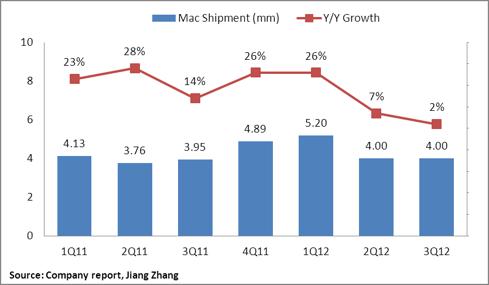 Click to enlarge
No slowdown in China
China, which accounts for two-thirds of Apple's Asia-Pacific revenue, was $5.7 billion, a sequential decline of 28% but an increase of 48% y/y. The sequential decline was due to successful launch of iPhone 4S and changes in channel inventory. Nonetheless, Apple's China sale isn't slowing. iPhone sales were up 100% y/y and the recent iPad trademark settlement should maintain Apple's sales momentum in China.
What concerned me: iPhone shipment miss and lower gross margin guidance
iPhone estimate miss
iPhone shipments of 26 million was shy of the 28.4 million consensus estimate. As I pointed out in my earnings preview, lower than expected shipments could be due to the pause before the iPhone 5 launch. However, this type of consumer behavior should be expected, which means that analysts might have been overly optimistic heading into the earnings.
Lower Gross Margin Guidance
Apple guided for gross margins to be 38.5%, down 430bps sequentially due to fall transition and not much due to the impact of strong US dollar. When asked about whether such declines in short-term gross margin is only temporary and how much of it would Apple get back later this year, management declined to comment, which is a concern given that margin deterioration could last longer than expected.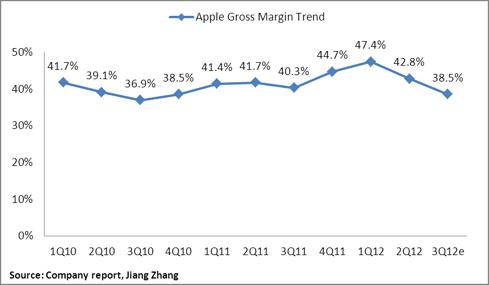 Click to enlarge
While the iPhone miss and gross margin outlook was a bit disappointing, I believe that Apple will continue to execute heading forward with new products launches, which makes the 5% pull-back an attractive opportunity for long term investors.
Disclosure: I have no positions in any stocks mentioned, and no plans to initiate any positions within the next 72 hours.