After the market close on Tuesday, shares of Apple Inc. (AAPL) dropped into the 560s in after-hours trading in the wake of its earnings report for its third fiscal quarter. Some brief highlights:
Compared to the year-ago quarter, Apple's industry-leading gross margins expanded by 2.6% (from 41.7% to 42.8%), giving it more profit from each unit sold
Compared to the year-ago quarter, iPhone unit sales grew 28% to 26 million units (since the iPhone is the best iPod Apple ever made, the iPod unit "decline" by 10% to 6.8 million units represents net upselling to costlier products rather than net losses of sales)
Apple sold 17 million iPad units, 84% more units than in the year-ago quarter
Despite flat PC sales globally, and US sales of PCs down over 5%, Macs grew 2% year-over-year to 4 million units in the quarter (its US share grew to 12%, but its single-digit global PC share hasn't reached the top 5 vendors)
Profit grew 19.6% year-over-year from $7.79/sh to $9.32/sh, and a $10 billion share repurchase program promises to counter stock-compensation dilution and a dividend of $2.65/sh will be paid on 8/16 to holders of record on 8/13.
Apple pays a dividend of about 1.8% while carrying a historically-low P/E ratio: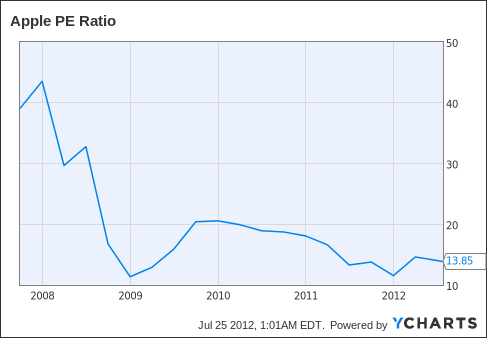 Based on the current earnings per share and the quarterly EPS reported by Wolfram Alpha, Apple's trailing four quarters of earnings total $42.93. At current prices nearing $570, Apple bears a P/E lower than 13.5. Considering the company's roughly 20% earnings growth, is there a better bargain? Certainly not among brands as globally reliable as Apple's.
Explaining The Drop
Apple's earnings at present come largely from iPhone and iPad sales, and the company is viewed as largely a story about smartphones. Global smartphone sales have been shrinking, and Apple's iPhone sales have been impacted by hype about the upcoming but as-yet-unannounced iPhone 5. (For example, C|Net has a special URL for iPhone 5 "news" at cnet.com/iphone-5. Nokia's (NOK) Lumia doesn't.) As a sequential result, Apple's 26 million iPhone units constitute a decline of over 25% from its second fiscal quarter's 35 million iPhones sold. The phone number is being blamed for the market's disappointment with Apple.
Looking Ahead
For perspective, the sequential performance in iPads is up from 11.8 million units - a growth of 5 million units, or 44%, in a single quarter. Since the iPad business is less mature, its outstanding growth doesn't offset the phone's decline in iOS units, but Apple hasn't been able to sell its newest iPad everywhere it's wanted to all quarter because it's been supply-constrained since launch and just last week began selling the new iPads in its second-largest market, China. Apple's fastest-growing product ever is growing like crazy, and just hit Apple's second-largest market.
Expect Apple to derive more and more of its business from abroad, especially from China. By early 2013, expect to discover China matching the United States as a market for Apple products. And those iPhones not sold this quarter because the world is holding its breath for Apple's next phone? It's going to be an absolutely killer Christmas quarter even in Apple's mature markets. That's without considering products people want to buy that Apple hasn't ever sold.
The cell phone market isn't vanishing, and Apple's unit sales - which drives its profits - are growing year-over-year. Apple's platform is attractive, most Americans have an Apple product in their household, and the more Apple products people own, the more they want to buy.
That Apple is being sold by traders is an opportunity for long-term investors.
Disclosure: I am long AAPL.