Another month has passed since I last visited the lack of financial news from Chimera Investment Corp. (NYSE:CIM). To get an idea where Chimera's financial results could end up, I went into comparable 2011 earnings reports and will extrapolate a possible outcome for this troubled company and stock.
Currently, we are in the third quarter of 2012 and Chimera Investment has not issued an earnings release or financial information since the third quarter of 2011. In March of this year the company stated it had hired a new accounting firm and the 2011 year-end results would be delayed. At this point the company has not yet released 2011 year-end results, 2012 first-quarter results and typically second-quarter results are announced near the first of August. On the positive side, Chimera has announced and paid dividends for the first and second quarters.
Going back to the first three quarters of 2011, Chimera reported per share core earnings of 15 cents, 14 cents and 13 cents, for the 1st, 2nd and 3rd quarters respectively. The quarterly dividends were 14 cents, 13 cents and 13 cents. The dividends for the first two quarters in 2012 have been 11 cents and 9 cents per share. Either the down trend in earnings is accelerating or Chimera is paying a lower dividend to keep investors from selling out entirely and hoarding some cash against future problems. Since the dividend rate was reduced each quarter this year, my assumption is the company is experiencing a rapidly decreasing profit margin.
At the rate of decline experienced in the Chimera' dividend for the first two quarters of 2012, the company will not be able to pay a dividend by the second quarter of 2013. This is unlikely, but a complete de-leveraging of the portfolio and high prepayment rates or credit losses could drive the profits and dividends to a couple of cents per quarter fairly quickly.
Causal factors for a lower profit margin could be either a higher cost of borrowing or an inability to maintain leverage due to a lack of willing lenders. This is entirely speculative, but if the quality of Chimera's MBS portfolio is much lower than previously revealed, the lenders providing portfolio leverage may be less willing or unwilling to continue lending credit against the securities. In 2011, Chimera increased leverage by 50% - from 1.3 to 1.8 - in an attempt to maintain profitability. A return of leverage to the 1.3 level would account for the lower dividend rates paid so far in 2012.
Chimera is only a few months away from a serious risk of delisting by the NYSE. Continued dividend payments are possibly a tactic to keep the share price above $1.00, which is a definite delisting trigger for the NYSE. If Chimera Investments does not release an earnings report next week when closely related Annaly Capital Management (NYSE:NLY) reports, it may be the trigger for a significant sell-off of CIM.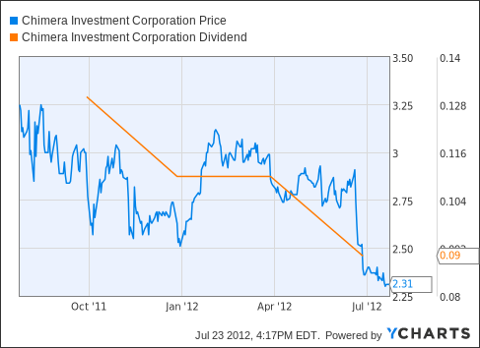 CIM data by YCharts
Disclosure: I have no positions in any stocks mentioned, and no plans to initiate any positions within the next 72 hours.