The chart for SPDR Gold Shares (NYSEARCA:GLD) for the trailing year does not look too pretty with a series of lower highs, though support has held well near the $150 level.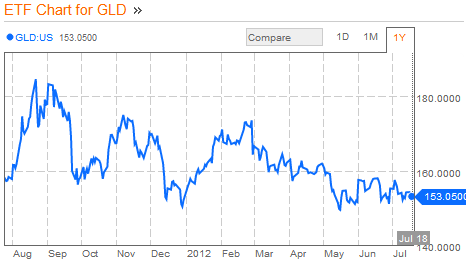 Source: Bloomberg
Respected hedge fund guru Eric Sprott made the claim on CNBC that the paper gold price may be artificially manipulated to remain low. According to Sprott, demand for physical gold remains very strong and he suggested a $2000/oz target by the end of the year. Given the recent Libor manipulation scandal by a cartel of banks, gold price manipulation certainly would not be surprising. But there is another way to look at the price of gold and that is in reference to the movement of the dollar.
The Dollar Index (DXY), which measures the greenback's performance against a basket of currencies, shows that the story of GLD's stagnation has more to do with the rise of the dollar. The two charts show a strong inverse correlation.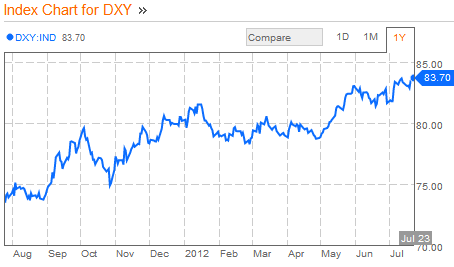 Source: Bloomberg
This effect is seen more clearly when we chart gold prices in the different currencies.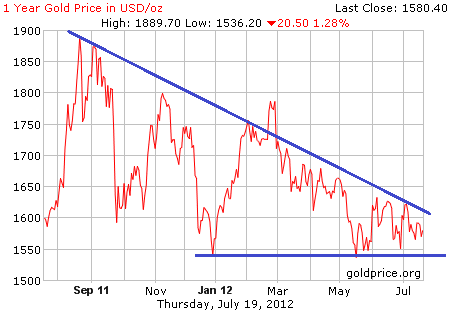 While gold prices in USD have shown this trend of lower highs with a horizontal support line and a decline of about 1.26% yr/yr, gold prices in euro show an upward trend of lows with an overall gain of 14.04% yr/yr.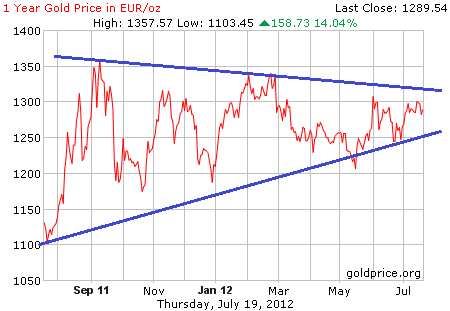 This effect is even more pronounced when we see the gold price in INR, Indian Rupees. India is one of the biggest net importers of gold in the world.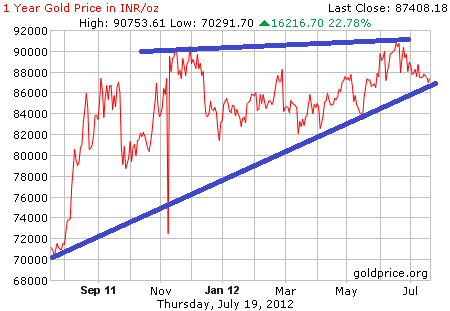 Here we see both rising highs and rising lows with the yr/yr price change of over 22% in Indian Rupees.
At this point a bet in the stagnation or decline of GLD is really a bet on the continued strength of the dollar. While the problems with Europe are making the headlines currently, the looming fiscal crisis in the US may put these to shame. According to recent forecasts by the Congressional Budget Office, federal debt held by the public will reach nearly 70 percent of the overall U.S. economy by the end of the year -- the highest percentage since shortly after World War II. It is hard to imagine the US dollar being a safe haven and it is hard to bet on an alternative currency at this time other than gold.
How to invest
Holding physical gold, invest in SPDR Gold Shares or in Sprott Physical Gold Trust Unit (NYSEARCA:PHYS) (which is redeemable for physical gold) are all good options. We really like the miners as well given their significant underperformance of GLD. Market Vectors Gold Miners ETF (NYSEARCA:GDX) is near 3-year support and Market Vectors Gold Miners ETF (NYSEARCA:GDXJ) is at a 3-year low. Barrick Gold (NYSE:ABX) is also a solid bet.
Among the junior minors we particularly like Primero Mining Corp (NYSE:PPP), a Canadian company. Primero has the advantage of both being a profitable producer today (trading at less than 3X annual cash flows) and possessing the potential to significantly boost production with new discoveries in its mining concessions in the San Dimas district in Mexico.
Long-term call options on GLD and GDX are also a good way to bet on a gold rally while hedging against a fall in the US Dollar while limiting downside.
Disclosure: I am long PPP. I have long calls on GDX.