China Pharma Holdings (NYSEMKT:CPHI) announced it would report its Q1 financial results next Monday, May 5, and, without disclosing any specific numbers, the company went ahead and teased investors with the news that Q1 would show a greater than 60% gain in revenues and earnings over the year-ago quarter.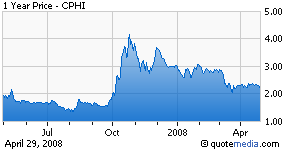 Last year, according to government filings, China Pharma reported revenues of $7.2 million and net earnings of $2.4 million. While the revenue number is fairly straightforward, the earnings figure requires a number of explanations. For one thing, China Pharma enjoyed a tax holiday in 2007, and this year will begin paying its governmental dues at a reduced rate. Second, China Pharma recorded a $1.5 million one-time sale of technology in Q1 of last year. That item was not a pure-profit sale, because it required some $900,000 of expense, comprised of R&D work and taxes, both of which were included in its filing.
However, without the one-time sale, earnings from operations for China Pharma in Q1 of 2007 were reported as $900,000. So the unanswered question is: Which of the two earnings numbers will China Pharma use as a basis for comparison?
If the all-inclusive earnings number is the basis, then China Pharma will announce earnings of at least $3.9 million on revenues of $11.5 million. The lower earnings from operations number would result in earnings of $1.4 million.
For comparison, in 2007, China Pharma made a profit of $12.3 million on $33.2 million of revenue, implying that the higher numbers should be easy for the company to beat. The company makes pharmaceuticals and nutritional supplements. Its lead product is PusenOK, a cold and flu remedy. In December 2007, China Pharma received approval of Bumetanide, a diuretic, from the SFDA.
The shares of China Pharma responded to the earnings tease with a modest uptick. China Pharma moved up two cents to $2.25. With 37.3 million shares outstanding, China Pharma currently has a market capitalization of $84 million.
Disclosure: none.