In recent weeks, there has been a plethora of concern over a slowdown in capex across all industries. In healthcare, General Electric (NYSE:GE) – (which accounts for approximately 35% of the US diagnostic imaging equipment market) - reported a 13% decline in orders from its hospital customers.
With this announcement, all companies selling equipment, software or services into the healthcare space saw their stock prices negatively affected as investors ran for the hills.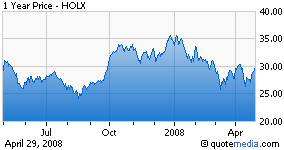 There is one company that should not have been thrown out the window. Massachusetts based Hologic, Inc (NASDAQ:HOLX) makes digital mammography systems. These systems are relatively inexpensive (cost is approximately $300-350K) and are in increasing demand across most US hospitals. The ROI of a digital mammography machine is easily realized with higher reimbursement and increased productivity gained by the shorter processing times as compared to the "old way" – developing film using analog mammography. Essentially, HOLX will benefit from the upgrade cycle from outdated analog mammography machines to digital.
What's driving this upgrade? A large pivotal clinical trial (the DMIST trial) proved that digital mammography can improve breast cancer detection in 65% of women. Another positive trend is that currently only 50% of American women follow the American Cancer Society recommendation for annual mammograms. My bet is that more and more women will now begin to get their annual mammography.
Beginning in 2005, hospitals were forced to upgrade from analog to digital by either doctors, patients and insurance companies who demanded better, more preventive medicine, or by hospital lawyers who were worried about malpractice lawsuits if their hospital didn't upgrade. Thus, I see HOLX benefiting from the upgrade cycle despite the slowdown in the economy. Hospitals can't afford not to upgrade. If all goes well, HOLX share price will reach $40 per share from its current $29.50 share price.
Disclosure: Author holds a long position in HOLX