Given that it has been a year since Synenco Energy Inc. (OTC:SYEYF) kicked-off its strategic review process, anyone interested in the company's Northern Lights oilsands project would likely have had a chance to take a good look by now.
As a result, it appears unlikely that another bidder will emerge to counter Total E&P's (NYSE:TOT) C$9 per share offer. However, given elevated oil prices, the French super-giant is getting this resource for a real bargain, according to Raymond James analyst Justin Bouchard, even when you consider both project and sector-wide risks.
"The flipside of course, is that Synenco shareholders aren't in a very strong negotiating position," he told clients, while downgrading Synenco to "market perform" from "strong buy" and cutting his price target from C$15 to C$9.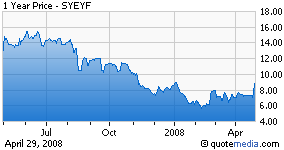 Based on the takeover price, Synenco's cash position of C$230-million and Raymond James' estimate of 817 million barrels of recoverable resource, the shares are trading at an enterprise value of C$0.30 per barrel, Mr. Bouchard said.
Blackmont Capital analyst Menno Hulshof told clients the deal is a "mild positive" for the M&A outlook in the oilsands, but thinks it is unlikely that a White Knight bidder will emerge.
However, he does think it is possible that Synenco's largest shareholders – Wellington, DE Shaw and Capital Research, who control roughly 27% of its outstanding shares – choose to reject the offer and seek better terms. Mr. Hulshif does not believe a higher bid is likely though and moved his rating to "tender" from "buy," while lowering his price target from C$11.25 to C$9.