We are bullish on Equinix Inc. (NASDAQ:EQIX), as it has shown tremendous growth in revenues and earnings. Furthermore, higher growth is expected from the company going forward as demand for enterprise data management improves. All key business drivers (utilization rates, cabinet billings) have improved and continue to drive the company's profitability. Equinix has a defensive nature, as 90% of its revenues are recurrent. The company is reporting its Q2 earnings today, after the market closes. Analysts are expecting revenues and EBITDA to grow by 18%.
Through its data centers in almost 40 markets, Equinix provides various data services to its clients, which include global companies and telecom carriers. It connects more than 4,000 enterprises, cloud, digital content and financial companies -- including more than 700 network service providers -- to help them grow their businesses, improve application performance and protect their vital digital assets. It is a $7.63 billion company, with operations in the Americas, Europe, the Middle East and Asia Pacific.
Equinix offers collocation, exchange, and outsourced IT infrastructure services. Through its Internet business exchanges, the company routes almost 90% of the world's Internet traffic. Equinix has been able to engage many telecom carriers due to a policy that allows two networks to connect to one another if the two networks are Equinix customers. The company also provides collocation services, enabling various telecom and cloud companies to outsource their information technology infrastructure so they can concentrate on their own competences.
Although Equinix draws revenues from the Americas, Europe, the Middle East and the Asian region, the American market continues to be its biggest, accounting for nearly 65% of the company's revenues in the fiscal year ended 2011.
Additionally, revenues from its major contributors increased by almost 24% in the first quarter of the current year, compared to 1Q2011. This increase is largely due to EQIX's ALOG data center acquisition in Brazil. The company acquired the aforementioned data center through a $80 million cash transaction, extending its reach into Brazil's rapidly growing market. The impacts of this acquisition have continued to reflect positively for Equinix, adding almost $19 million to its revenues in the first quarter of the year.
The company also continues to expand its IBX (Internet business exchange) base, and recently launched an IBX data center in the Washington and Chicago areas. These expansions have proved quite fruitful for Equinix, and in 1Q2012, added almost $5 million to the company's revenue stream.
Revenues from the company's European and Middle East divisions also improved in 1Q2012, largely due to its recently opened Internet business exchanges and exchange expansions in Amsterdam, London and Paris.
Yet another reason for the quarterly 24% growth in revenues was an increase in orders from both the company's existing customers and new customers during the period. Singapore, which contributes a majority of revenues to its Asian Pacific region, saw growth largely due to IBX data center expansion, increasing revenues by almost 30% in 1Q2012.
In addition to acquisitions and expansions, Equinix has identified various drivers or key metrics for its business. One such metric is utilization rate, which represents the total cabinet billings versus the total cabinet capacity. This rate improved in 1Q2012 for all the regions of operations, and has been on an upward trend for the last few years.
Below is a summary of the few key business metrics that the company has identified and uses to judge its performance. We compare the results in the first quarter of 2012 with all the previous quarters of fiscal year ended 2011. The table clearly shows the consistently improving business metrics like number of cabinet billings, as well as an increase in cabinet capacity, coupled with increasing revenues per cabinet.
FY2011

FY2012

Q1

Q2

Q3

Q4

Q1

Cabinet billing

North America

36,800

37,300

38,900

39,400

40,400

Europe

21,700

22,800

24,100

24,600

25,100

Asia Pacific

8,600

9,300

9,600

10,200

10,400

Utilization Rate

North America

80%

81%

84%

83%

83%

Europe

77%

71%

76%

78%

79%

Asia Pacific

81%

70%

70%

74%

75%

Revenue per cabinet

North America

$2,080

$2,100

$2,110

$2,133

$2,169

Europe

$1,164

$1,220

$1,210

$1,199

$1,229

Asia Pacific

$1,819

$1,850

$1,868

$1,863

$1,928
Equinix's revenues have been rising consistently over the years, and have grown by an impressive 35% since FY2009. Gross margins are high (47% in FY2011) and have seen some recent expansion. After a modest year in 2010 in terms of earnings, the company has increased its earnings ever since. In the last financial year, its net income increased by almost 155%.
This growth in earnings also reflects in its reported EPS for the first quarter of the year (1Q2012 EPS $0.74 versus 1Q2011 EPS $0.54). In addition, the company's bottom line is expected to grow by 30% in the next five years. Equinix has sufficient cash flow generation ability, which is evident from its consistently improving operating cash flows. The company generated almost $600 million in CFO in 2011, an improvement of almost 50% from the previous year.
Equinix does have a high debt-to-equity ratio of 145%, however, it has the strength in its operations, as well as sufficient cash generation ability, to sustain the debt. The company's outlook has recently been revised by Moody's from stable to positive.
According to the company's CEO, Equinix might redefine itself as a real estate investment trust (REIT). The expansion in its data centers throughout the world is the primary reason behind this reclassification. If Equinix proceeds with its plans to obtain REIT status, it could bring tax benefits for the company. The changeover would save the company taxes in excess of $300 million, as REITS are subject to lower taxes. Moreover, the company currently doesn't pay a dividend, but after the possible REIT conversion, it would have to pay out 90% of its earnings to its shareholders. That would be a shareholder friendly event that could cause the stock price to appreciate.
As mentioned previously, the majority of the company's revenues are recurring. Equinix has shown exceptional growth in all areas of its operations, and we expect this growth to continue as telecom giants like AT&T (NYSE:T) and Verizon (NYSE:VZ) look to Equinix to manage their Internet traffic. Its peer, American Tower (NYSE:AMT), began operations as a REIT in January. Since then, its stock has gained almost 16%.
Using the historical P/E average (98x), we can see that the stock is trading at a discount. Other multiples like P/S (4.7x) and P/B (3.8x) are at a discount to industry averages of 37x and 4x, respectively. The stock is trading at an EV/EBITDA of 13.8x.
Equinix has shown tremendous earnings growth. This year, its earnings are expected to grow by over 50%, and over the next five years, this growth will stabilize at 30%. Expected growth in earnings will likely bring price appreciation for the stock, which has performed well (+60%) on a YTD basis vs the telecom ETF (NYSEARCA:IYZ) being up 7.5%.
(click image to enlarge)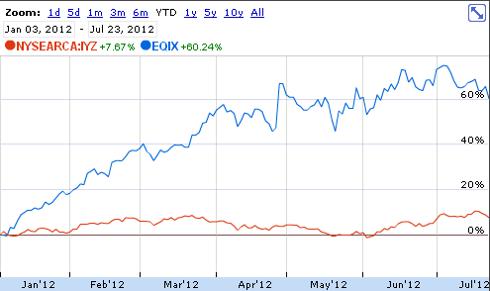 Investors should analyze today's release in detail. Any signs of slowdown in growth can cause a big downward move, as the stock is trading at high P/E multiples. What is more, the market is expecting the company to keep posting high growth numbers. Any positive developments on Equinix's conversion to a REIT will be met positively by the market.
Disclosure: I have no positions in any stocks mentioned, and no plans to initiate any positions within the next 72 hours.