On Tuesday, July 24, CNBC's Jim Cramer made an assertion that genetically-modified seed company Monsanto (MON) stands as one of the best long-term plays to invest in when it comes to lasting fears over the current drought. With the worst drought in 50 years still wreaking havoc across the United States Corn Belt, the $45.33 billion Monsanto would appear to be a logical choice when it comes to investing in agriculture. After all, farmers will need more seed to replant their crops, and favorable seed traits are advantageous in promoting crop survivability.
Yet the highly profitable Monsanto is already a monopolistic leader in its field of genetically-modified seeds. Monsanto practically stands alone as it already controls a seed empire with more than 79% of the corn market. But with greater competition arising from major players such as Dow Chemical (DOW), DuPont (DD) and Syngenta (SYT), one can only wonder if Monsanto's future growth is already well-factored into its current price.
However, one unconventional company that is slowly gaining traction into this niche space of agriculture is a name that has yet to truly be correlated to it. Renewable oil innovator Solazyme (SZYM) is a small $805 million company that is often mistaken exclusively as an advanced biofuel manufacturer. Yet in reality, the company is a specialty manufacturer of oils that can effectively replace those derived from petroleum, plants, and animal fats. As a result, this industrial biotechnology company's process is able to cost-effectively create oils that are useful in the creation of food products just as easily as it can create fuel alternatives.
From a cursory glance, Solazyme thus far has little to show for it. The company derives a significant portion of its revenues from cosmetic sales and research partnerships which accounted for the meager $39 million in revenues the company did in 2011. The company's net income losses also increased from $16.4 million to $54 million from 2010 to 2011. But these results remain misleading in light of the lag time associated with developing manufacturing capacity.
Through its 50-50 joint venture with French starch giant Roquette Freres, Solazyme is already on course for the development of a 50,000 metric ton facility dedicated entirely to food production. When completed, this plant is expected to generate several hundred million dollars in revenues just from this food segment alone. In consideration of this, there are three reasons in particular why Solazyme may stand more deserving than Monsanto as the best long-term play in addressing Big Agriculture's drought and food supply concerns.
1) Research Advantage Over Monsanto.
The most direct way in which Solazyme compares against a seed-producer like Monsanto is in its ability to research and innovate faster, cheaper, and with more control over the output than the competition can. Solazyme is able to directly compete when it comes to novel crop-based oil outputs. Because it's using genetically-modified microalgae, the company is also able to innovate new product traits with significantly less time and resources. Solazyme is also able to yield results that seed companies have proven incapable of accomplishing. Solazyme's new oil profile is able to completely eliminate polyunsaturates, a feat believed to be impossible under current research methods. The following graphic illustrates this primary advantage.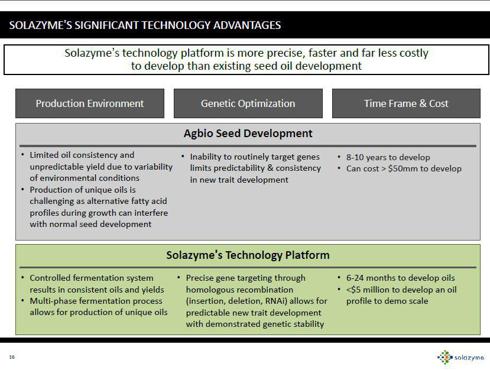 2) Sustainable and Consistent System.
Solazyme's technology is reliant on a process that can be scaled. It is less hindered by input supply interruptions (ie. rain or sun), it produces for readily established markets, and it relies on an available resource that is becoming even more accessible. It is important to note that Solazyme's algae is grown heterotrophically in standard fermentation equipment with a sugar feedstock. As a result, the company has many unique advantages over current agricultural production as found in the following article linked here. Farmland is subject to inconsistencies and extraneous conditions such as weather. Solazyme's controlled environment is stable and consistent.
Additionally, sugar is a basic process feedstock that is arguably becoming more of a non-food feedstock when one considers the amount of cellulosic technologies now finalizing development. Sugar is capable to be derived from an abundance of biomass. A look at a company named Proterro even suggests the possibility of a noncellulosic, non-crop-based solution to cheap sugar supply in the future. This too suggests a very reliable and cheap input resource.
The current system in which Big Agriculture thrives relies on a system of subsidized growth in order to reduce the cost of basic food resources. In short, cheap and centralized corn translates into affordable food derived from an efficient use of land resources. By creating a food resource that is not dependent on limited land resources and is not reliant on inputs that are (read the above section concerning cellulosic sugar), Solazyme's process unlocks an additional supply of food capacity. In doing so, it can help relieve the strains now built upon current food production.
3) Improving Logistical Efficiencies and Food Quality.
Additionally, the food Solazyme's process can create is more valuable than existing starches both in terms of quality and scope. Solazyme's algal flour for instance can be used to replace butter and eggs. The product is also non-allergenic, vegan, and gluten-free. Solazyme's protein product named Altein may ultimately even help contribute to displacing inefficient protein converters found in animal production. Altein stands as a plant-based protein source that can integrate effectively into current food production. This too can have an effect at reducing the demand burden on current agricultural economics.

Conclusion
With the devastating drought affecting the current food supply, the short-term winner in the midst of crisis ultimately lies in Monsanto. The company is already a monopolistic leader of a farming system that knows very few alternatives to seed-based production. On the other hand, one long-term solution to the problem is to complement the current system with an alternative production capacity that can help relieve the demand burden on a whimsical and limited supply.
When approaching the issue from a long-term perspective, Solazyme clearly stands as a winning solution with abundant growth potential. The company appears to remain hindered only by the lack of manufacturing capacity, an issue it's actively addressing. The company's process has a clear advantage over seed producers like Monsanto, Dow, and DuPont when it comes to research and development. Solazyme is also able to effectively expand food production in a sustainable manner and provide the benefit of increased consistency. Above all, the company's products themselves carry value added benefits over current food production.
Disclosure: I am long SZYM.