With the impact that the European debt crisis is having on portfolios, many people are looking for ways to diversify away from this impact. Adding real estate to your portfolio is one way to do this. This decision could make sense if you are looking to diversify your portfolio's revenue stream.
Historically, REITs have been structured to include investments mostly here in the US. However, over the last decade the structure has expanded to include REITs in a total of 21 countries, making a global REIT allocation possible in your portfolio. According to Cohen and Steers, from 1990 to 2010 the number of global publicly traded REITs increased from 33 to 250 companies.
There are currently 18 domestic, seven foreign and three global REIT Exchange Traded Funds (ETFs) to choose from. During our search for real estate ETFs, we found it interesting that the highest Morningstar rankings went to the global REIT category. While four and five star rankings are only indicators of good past performance and reflect nothing into the future, it still sparked a bit of curiosity on our part as to the inner workings within the three global ETF choices.
To understand the difference, a domestic REIT will invest in real estate companies within the US. A foreign REIT will invest in real estate companies outside the US; these funds often have ex-US in their title. A global REIT will invest in companies all over the world, including the US.
The three choices for a global REIT ETF are as follows:
First Trust FTSE EN Developed Markets Real Estate (FFR)
Cohen and Steers Global Realty Majors (GRI)
SPDR Dow Jones Global Real Estate (RWO)
METHODOLOGY
The most important research into any ETF is knowing the methodology of the index that the ETF tracks. The methodology will explain the fund's performance, turnover and allocation.
First Trust FTSE EN Developed Markets Real Estate tracks the FTSE EPRA NAREIT Global Real Estate Index. This index is managed by committee and reviewed quarterly. The index is made up of developed and emerging market real estate holdings. The real estate companies represented within this index will get 75% of earnings (before interest, taxes, depreciation and amortization) from real estate activities. Companies that finance real estate, construct homes or hold infrastructure assets are excluded from the index. Companies that sell residential homes are only considered within emerging markets. The index holdings are tested for liquidity on an annual basis.
Cohen and Steers Global Realty Majors tracks the Cohen and Steers Global Reality Index. The index is managed by a committee and tracks the top 75 companies that in the committee's analysis are leading the securitization of real estate globally. Companies must meet minimum size and liquidity requirements, as well as final determining factors such as market position, financial strength and asset quality. Positions are limited to 4% of the index while also trying to maintain geographical proportional representation. The index is reviewed and rebalanced quarterly.
SPDR Dow Jones Global Real Estate tracks the same index as its name. To be included in this index, a company must be both an equity owner and an operator of commercial or residential real estate, as well as have its revenue derived from the ownership and operation of these assets. The company must have a minimum market cap of USD 200 million. Some companies, such as real estate finance companies and home builders, are excluded from the index. The index is float adjusted based on market capitalization. Index daily pricing data is available back to December 31, 2004. This index is reviewed and rebalanced quarterly.
To see how the index methodology is applied, we looked at the top holdings for each REIT ETF.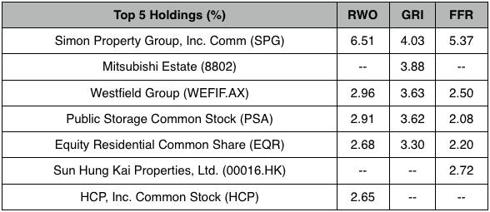 The listing shows that the funds' top five stocks are very similar; only the weight in each security seems to be the differentiating factor. Looking deeper into this, we find that this is also the case for the top twenty-five holdings of the three ETFs. RWO and FFR have a similar number of holdings, at 213 and 286 respectively. GRI holds 75 securities and caps the weight at 4% as defined in the index methodology.
We can also break down the ETF holdings by market cap. The chart below shows that FFR and RWO hold more weight in mid caps while GRI holds more large/giant caps.

Breaking down the ETFs into their respective country weights, we see that for each ETF the top five weights are the same: USA, Australia, Japan, Hong Kong and the UK (highlighted in yellow below). The slight variation in weight from one ETF to another can be explained by index methodology.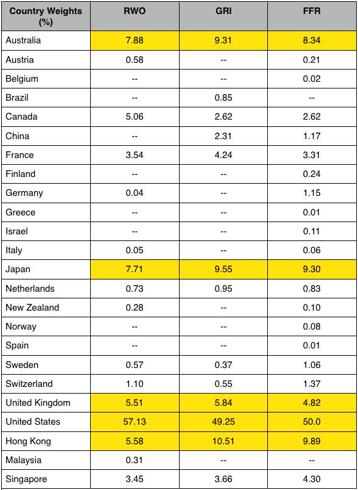 We can look to correlation to help show us how REITs have reacted to each other and major indices over the last few years. As you can see in the chart below, all three ETFs are highly correlated to each other, as expected given what we have observed in holdings and country exposure. We also note that we should expect the REIT ETFs to closely move with the S&P 500 and MSCI EAFE (developed Europe) indexes. The ETFs are negatively correlated with the US Dollar. The chart below shows correlation from 7/1/07 to 6/30/2012.

Many investors deploy the use of REITs for the income that they generate. FFR has a 12-month yield of 2.35%, GRI's yield is 2.31%, and RWO's is 3.03%.
The fees associated with ETFs are usually much less than mutual funds. The expense fee for FFR is 60bps, GRI is 55bps, and RWO is 50bps. Unlike mutual funds, however, this is not the only expense. How you trade ETFs is also related to your expense. ETFs trade with a bid and ask just like stocks. Your purchase price if at a premium to the funds net asset value (NAV) would in theory add an "expense" to your investment. Of course, if you also sell the fund at a premium then you would recapture that cost.
Contrary to many articles on the internet, low trading volume or low fund assets do not mean that you cannot trade the ETF at or near NAV, you just have to have the right tools to make it work efficiently for you. Any ETF can be shut down, but a fund with less than 100 million in assets has a higher risk of being closed due to lack of interest. Fund closings have historically been done in an orderly fashion.
Currently FFR has 87 million in assets and an daily average trading volume of 18,800 shares. GRI has 64 million in assets and a 9,700 average daily trading volume. RWO has 461 million in assets with a 91,000 average daily trading volume. The tradability ranking would go to RWO in this analysis, based on its relative high volume and assets under management. We also note that RWO trades free of transaction charges at TD Ameritrade.
The historical performance of these funds differ greatly, however volatility looks to be very similar. The unique strategy of GRI does not appear to have much of a performance difference between these funds. Because the ETFs have not been around for 10 years we note that the below chart uses the index data where ETF data is not available. The index for FFR is not available for 10 years.
FFR, GRI and RWO represent many of the same global REIT stocks but with different weightings. RWO looks to be the leader in assets and ease of trading. In the end, each of these ETFs are going to give you the global REIT exposure you are looking for. As to which one is best for you depends on which index methodology makes you more comfortable.
Note: Mitchell Williams, Wiser Research Intern, contributed to this article
Index Methodology
Disclosure: I am long RWO.