Trending discount retailer Five Below (FIVE) continues to revel in its initial public offering success having ended Tuesday's session with a final trade of $27.60. The recent addition to the public markets made headlines last week as the company raised $163.5 million through an offering of 9.6 million shares priced at $17/share. Now trading 62.4% higher off of its IPO price, investors should begin to question whether the recent gains amount to a tangible foundation on which the company can stand. As it currently trades, the company now supports a market capitalization of $1.49 billion and an EV/EBITDA of 51.91.
When contrasted against fellow peers in the discount retail space, the high enterprise multiple paints a lucrative valuation being associated with Five Below. The rising popularity of the company has been greatly associated with the trending success of fellow discount retail peers such as Dollar General (DG), Dollar Tree (DLTR), and Family Dollar Stores (FDO). Yet on metrics alone, the company appears to bear little advantage to support the lofty multiple as seen in the table below.
| Company | Mkt. Cap. | Price/Sales Ratio | Operating Margin | EV/EBITDA |
| --- | --- | --- | --- | --- |
| Five Below | $1.49 Billion | 4.62 | 7.03% | 51.91 |
| Dollar General | $17.44 Billion | 1.14 | 10.19% | 10.98 |
| Dollar Tree | $11.74 Billion | 1.73 | 11.89% | 11.92 |
| Family Dollar Stores | $7.77 Billion | 0.85 | 7.55% | 9.15 |
Indeed, the main advantages of Five Below when compared to these competitors appears to be the amount of growth that lies ahead of it along with the focused demographic of young teens. Unfortunately, neither of these advantages appear to justify the soaring valuation. As seen from the company's own financials taken from its S-1 filing, sales growth has already begun to wane.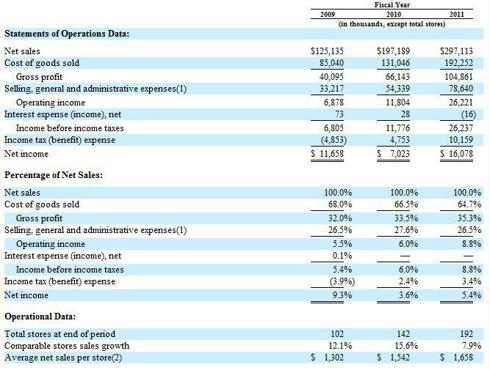 From 2010 to 2011, the company's revenues increased 57.6% off of revenues of $125.13 million in 2010 to $197.19 million in 2011. From 2011 to 2012, sales growth decreased to 50.7% off of revenues of $197.19 million in 2011 to $297.11 million in 2012. Additionally, we see that net income only marginally increased over the same time period from 2009 to 2011. With net income of $11.7 million in 2009 and $16.1 million in 2011, income growth averaged a mere 19% over the last 2 years.
When combined with a look at the company's assets, the picture fails to brighten for Five Below. Even after incorporating proceeds of $163.5 million, the company's total assets still appear to be less than $300 million. While well-capitalized for ongoing growth, the company fails to impress from a balance sheet standpoint in light of its current valuation of $1.49 billion.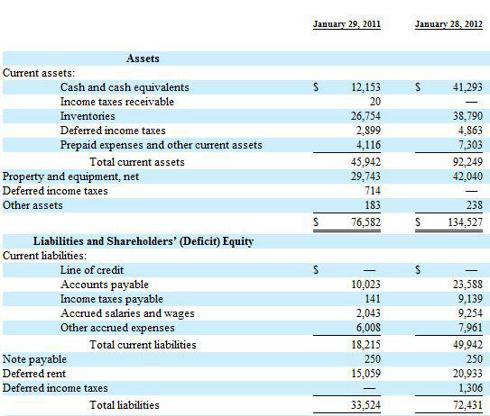 The IPO success of Five Below appears highly reminiscent of another short-lived success found in Groupon (GRPN). When Groupon made its debut in late 2011, the company's shares closed up 31% by the end of the first trading day at $26.11 from its IPO price of $20. Much of the investor hype remained ecstatic over the thrift nature of Groupon's deal website as is also found here in Five Below's thifty $5/item price cap. Both companies appear to be targeting a younger generation and more trendy audience. Yet the similarities between the two companies begin to fade here, and its far from accurate to believe that Five Below will follow Groupon's deteriorating valuation since its IPO. As of Tuesday, Groupon now trades at $7.24.
Nevertheless, there remains an undoubted amount of hype being built into the valuation of Five Below. It remains to be seen whether the company can improve its prospects from a financial standpoint in order to justify it. Compared to its peers, the company has clearly outperformed in the minds of investors. Yet while historical margins and growth remain high, they also appear to be deteriorating as it is to be expected with evolving expansion. Time will tell if the company can live up to its expectations, but the smart money will see that there is limited upside to the market's current perception. This is especially so in light of the valuation risk that has already been built into the company.
Disclosure: I am short FIVE.