Recently, Swiss investment bank UBS joined a host of others banks in the shipping business. Not by purchasing ships, but by creating a freight index to track the variation in shipping costs. Yawn, right? Just another index. Not so fast.
Gold Standard
The gold standard for shipping rates is the Baltic Dry Index [BDI]. The BDI is a weighted composite index of the daily rate of three different sizes of ships on four main shipping routes. Not only does it tell you what a ship would cost on a given day, it also has information value on the state of the global economy: things like supply and demand in certain commodities such as coal, iron and grains. The axiom for shipping wonks is that "people don't book freighters unless they have cargo to move." And when they do have cargo, they have to have the ships to get their products from point A to point B or they might as well become salmon fishermen.
But you can't invest in the BDI. If you were a private investor, the closest you could get was to invest in a shipping company - but that's a little like buying a cow when all you're interested in is the milk. Sure you get the milk, but you also get a whole lotta other things to worry about.
And if you're one of the hundreds of ship owners, operators, charters and traders, there was no way to hedge against the volatility of freight costs. Hedging would be invaluable in this case, because shipping costs are volatile with a capital V.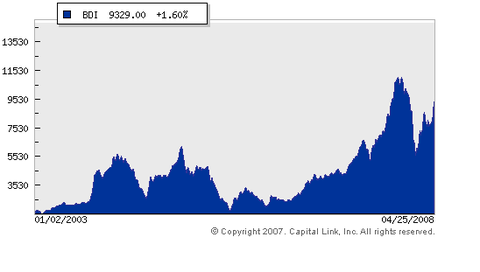 Many things can contribute to the rough seas of freight costs - supply and demand of the commodities transported is No. 1. In 2007, the average freight rate almost doubled from 2006. To get under the hood, there's no better source than the ingeniously named shipping trade magazine - theBaltic. In March 2008, they discuss the factors contributing to the rise of freight costs, and its subsequent fall in January of 2008 is discussed in an article called "Dry bulk markets damaged, but not sunk, by 'perfect storm.'" Here's a brief breakdown.
Prices went UP because:
Dry bulk shipping activity rose by 7%
Iron ore transportation rose by 70 million tonnes - that's up 10% compared with 2006
China alone imported over 390 million tonnes of iron ore in 2007
China imported over 51 million tonnes of coal - a 34% increase. It was estimated that this demand created a need for an additional 40-bulk vessel in 2007.
Cargos such as nickel, manganese ores and alumina rose around 10%
Grains volumes transported rose 3%
And DOWN:
In Brazil, Vale had to cancel around 5 million tonnes of iron ore shipments to China because of port congestion and maintenance problems
Recession worries due to the U.S. Federal Reserve's interest rate cut
And UP again:
Chinese iron and coal imports continue to increase
Demand for grains around the world increasing
This will be on the final exam, and be prepared for a quiz on Friday.
Industry Hedging
With all of this volatility, industry participants needed a way to hedge against wild price swings. Freight forward agreements (FFAs) are pretty much the only way that industry participants can protect themselves from the extremes. FFAs are pure, principal-to-principal agreements between a buyer and a seller to pay the difference between the cost of shipping something today, versus the cost of shipping something at a future date. It's the nonexchange-traded equivalent of the listed futures commodities investors are familiar with. There's a small industry of intermediaries who help manage FFAs: folks like Freight Investor Services [FIS] and GFI.
FFAs can be structured in a number of ways: based on a specific route; an average of the several routes a particular ship size would sail; by the day; or by the tonne from port to port. It's a growing market, and has become a highly flexible and sophisticated way to both speculate and manage risk. Freight forward contracts grew 150% in a year as of February 2008, and may grow another 20% as more banks and hedge funds get into the act.
Getting Wet Feet
UBS is trying to add some clarity to an opaque market. The index which they've launched - the UBS Blue Sea Index or BSI - takes the Time Charter type of freight forward agreement (meaning, how much a day a particular kind of ship costs to rent) and blends together different flavors, adds some secret sauce (in the form of an estimate of port congestion) and comes up with a magic number. Since there is no public exchange (these are forwards, not futures), UBS will be getting its underlying prices from a handful of the big players in the market (like FIS).
UBS is just the latest company to set up a freight derivatives operation. Most of the big boys are already there: Citigroup, Merrill Lynch, Macquarie Bank, Goldman Sachs, Credit Suisse, Lehman Brothers, Morgan Stanley and hedge funds GMI and Akuila Okeanos. The difference is that UBS is trying to index all this activity and thus expose it to investment.
Ilija Murisic, executive director of hybrid derivatives at UBS, is quoted in this article in the Financial Times, stating:
"The UBS Blue Sea index will be highly correlated with - and so act as an accessible proxy for - coal and iron ore prices and the Chinese economy."
The article goes on to say:
The new index will be based on forward freight agreements for three of the largest types of ocean going dry-goods carriers, mostly used to transport coal, iron ore and some agricultural products.
It will also benefit from port congestion in leading dry-bulk ports, which adds to shipping costs.
But in a piece on Lloyd's List, a maritime industry news site, Jeremy Penn, the Baltic Exchange chief executive, said it was "difficult to see the added benefit" of the UBS index. He added that a port congestion factor was often priced in to nearby freight derivatives prices in any case and suggested the addition of a further factor "would effectively mean double-counting."
In other words, the Baltic Exchange - which is in the business of providing market information - is protecting its territory, and doesn't seem all that interested in UBS cornering the market with another index. For the moment, neither one of these indexes - the BDI or the BSI - is investable. But the BSI is at least designed to be used for investment purposes, and we expect that UBS will be offering exposure to hedge funds and larger institutional players in the coming months.
A BSI ETF anyone? We're not holding our breath.
[Note: As we covered in December, there is one other way for lowly individual investors to play the shipping game - picks and shovels. You can go grab some shares of Eagle Bulk Shipping (NASDAQ:EGLE) or you can just play along with the Philadelphia Stock Exchange, which launched the PHLX Marine Shipping Index (SHX) back in November. We still haven't seen an ETF on the index, but with only 16 stocks in the index, it's not difficult to roll your own. SHX options would be nice, but as far as we can tell, there's zero volume.]
Links
UBS to start freight futures index FT.com, April 23, 2008
Freight futures sizzle as banks, funds tap growth Reuters, March 11, 2008
Freight futures rush as funds seek sanctuary Banking Times, Feb. 26, 2008