I think Seagate Technology (NASDAQ:STX) has a bright future, as does David Einhorn. Even if you don't want to go long the stock, options present an interesting opportunity for interested traders.
Seagate reports earnings on July 30, but I don't believe the stock has a whole lot of downside post-earnings. Why? Well, Seagate already pre-announced rough estimates of revenue and margin for the quarter. The company expects to report record unit shipments, but lowered revenue due to a one-time supplier quality issue. The stock dropped immediately after the announcement, but has been on an uptrend ever since. It seems investors don't view Seagate's current quarter in a bad light.
Despite this fact, August-expiry options are trading at a premium. $22 puts can be written for a 21-cent premium, $23 puts can be written for a 37-cent premium, $24 puts can be written for a 62-cent premium, and $25 puts can be written for a 92-cent premium. These premiums represent very solid yields of between 1% and 3.7% for a mere 3 weeks.
(click to enlarge. Source: Nasdaq)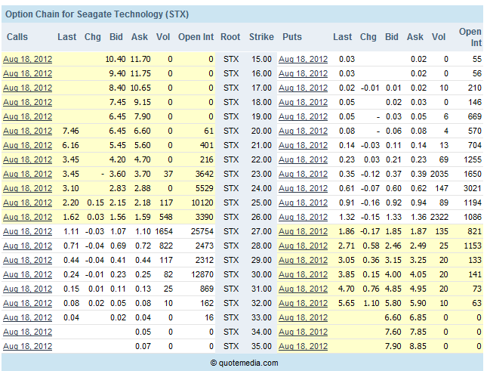 Seagate appears to have strong support in the $22-$23 level, where it fell to after Seagate and competitor Western Digital (NYSE:WDC) were downgraded in May.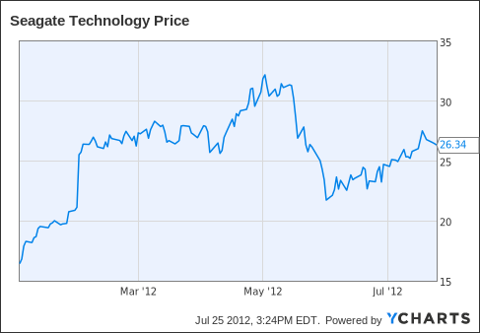 Given Seagate's bullish outlook, low valuation, and strong dividend and shareholder buyback program, I find it very hard to believe that significant downside is left in the stock, especially since the quarter's revenue and margin were already pre-announced. The $22 strike represents a discount of approximately 15% to current trading prices, and such a strong downside move is highly unlikely given the circumstances. Even in the improbable event that such a move does occur, you could do much worse than picking up Seagate shares at current valuations.
Disclosure: I am long STX.