Popular Canadian outfitter, Lululemon Athletica (LULU) has had a great run since late last year when the stock jumped from $47.50 to $80.08 in May. Earnings were stellar in the first quarter when the company reported revenue of $285.7 million on earnings per share of $0.32. Revenue was up 53% from a year ago and earnings per share saw a nice increase from last year when it came in at $0.23. Despite the solid earnings report, there was certainly a dark undertone when management told investors to expect diluted earnings per share around $0.28 to $0.30; below analysts' estimate of $0.31 a share.
Shortly after Lululemon's earnings release, the stock continued to climb to $80 which made investors ponder switching to a short position and that is exactly what they did. Short interest on Lululemon rose to 17.9 million from 10.7 million at the end of May. In addition, notable Australian short seller, John Hempton, told investors that he did not understand the reasoning behind Lululemon's rapidly rising share price and therefore making the stock a short candidate.
According to Investor's Daily Report, iconic hedge fund manager, David Einhorn of Green Light Capital, has moved into a short position on Lululemon. Although Einhorn's fund has declined to comment on the matter, this is definitely a plus for the bears. Einhorn is famous for his short selling, particularly in Allied Capital, Lehman Brothers and Green Mountain Coffee Roasters (GMCR).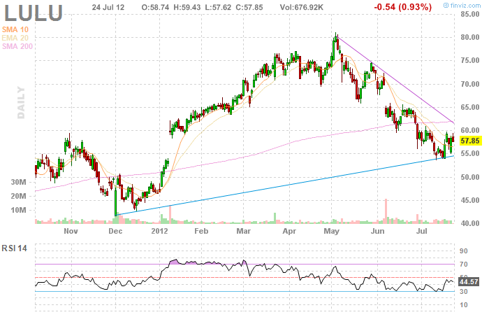 However, I think the biggest red flag is all the insider selling that is going on over at Lululemon. Since the start of 2012, insiders have been dumping shares hand over fist with no purchases. Among the insiders selling is CEO Christine McCormick Day and CFO John E. Currie. I highlight the fact that the CEO and CFO are dumping shares because no one else knows the company as well as the CEO and CFO. It is also worth mentioning that founder and Chairman of the Board, Dennis Wilson, unloaded about $50 million in stock at the beginning of the year. All of this selling shows that they believe the stock is at a top and that the future could be rocky. This is a major red flag and a huge plus for the bears.
Analysts covering Lululemon have also been bearish on the company's near future. In March, Argus downgraded Lululemon from a buy to a hold. In May, KeyBanc Capital Markets also downgraded the stock to a hold from a buy. While you should never base investment decisions solely off analyst ratings, they certainly should be something that you look at and follow to help determine Wall Street's sentiment.
The current world economic situation also proves that Lululemon could have a rough time going forward. A recent report from the Federal Reserve showed that consumer spending was down in June for the third straight month. Meanwhile European consumer confidence continues to dive. Consumers around the world are concerned about the financial situation that the world currently faces.
The bottom line here is Lululemon is a good stock and a solid company but unfortunately the stock's rise was not taking into account future headwinds which is the reasoning behind the huge move to short the stock. Insiders are jumping ship at a rapid rate and consumers are not spending in fear of a worsening economic crisis.
Disclosure: I have no positions in any stocks mentioned, and no plans to initiate any positions within the next 72 hours.