Market Recap: The market was able to reverse its recent fortunes as earnings combined with new Fed speculation combined to outduel a three-day drop in the markets, a miss in expectations from Apple (NASDAQ:AAPL), and weaker than expected housing data on New Home Sales. Earnings from Boeing (NYSE:BA) and Caterpillar (NYSE:CAT) were strong and outweighed the earnings from Apple that missed expectations. It was a relief for the markets to see two multi-nationals not repeat the current trend of missing expectations and seeing currency issues. Further, news broke that the Fed was potentially looking at some new action ... QE3, which definitely helped spark the markets. New Home Sales missed expectations, but they are a much smaller percent of total home sales, so the data was only a small hindrance.
Today's up day was not as strong as it could have been and lost a lot as profit taking happened quickly, but it's good to see some earnings come in better than expected from some blue chips, and with a heavy slate of earnings tonight and tomorrow, the market needs some strong reports. We have some important data to watch tomorrow as well with jobless claims that can also move the market.

Two Trades:
Two trades we like right now are long Domino's Pizza (NYSE:DPZ) as well as reverse iron condor in Amazon.com (NASDAQ:AMZN). DPZ is looking like a great long. We got a signal today as DPZ broke its 200-day MA, but we have a Buy rating on the company with $40+ price target. DPZ got hammered from its earnings report, but it has bottomed and been trending higher while the market has been hurt. The company looks solid for a swing trade from here on this break today. AMZN is a company that we like for a reverse iron condor into earnings on Thursday. We like buying the 220/225 bull call spread and 215/210 bear put spread. The company needed to move outside that area by Aug18 to make 5.00. The company typically moves 6%+, and we think this is a key report for the company as they did so well last report.
Trade #1: DPZ, Long
Trade #2: AMZN, Reverse Iron Condor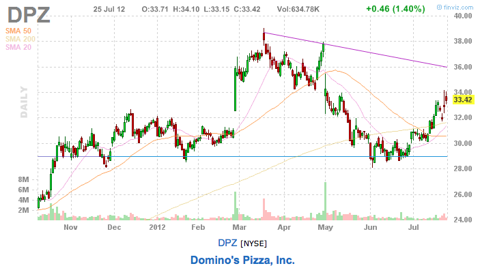 Tomorrow's Outlook:
Tomorrow, we are looking for a move to the upside to continue as long as we get some decent earnings and data, but if we do not, we will lack a catalyst and move back to European fears. Some of the most important earnings for tonight are Cliffs Natural Resources (NYSE:CLF), Las Vegas Sands (NYSE:LVS) and Visa (NYSE:V). Tomorrow morning we have important earnings from 3M (NYSE:MMM), Dunkin Brands (NASDAQ:DNKN), Oshkosh (NYSE:OSK), Royal Caribbean (NYSE:RCL), and many more. No major company like AAPL, but a ton of smaller names that lead their industry go today and tomorrow, which could make for a mixed day tomorrow. Additionally, we get initial jobless claims tomorrow as well as Durable Orders and Pending Home Sales. A solid jobless claims report would go a long way for this market, but it's very clear earnings will make the difference. Europe will continue to remain important to this market, but we may be able to get away from them tomorrow given the high volume of earnings.
Our Moves:
We had a mixed day in the market as we exited two short-term stock positions from our short-term equity portfolio. We exited our pair trade in DirecTV (DTV) long and RR Donnelly (NASDAQ:RRD) short for a 3%+ gain. We were stopped out on 3D Systems, however, for a 1.5% loss. We added the long in DPZ as well as added a bear call spread in Tiffany (NYSE:TIF).
We have the following positions:
In our Short-Term Equity Portfolio we are long Dominos Pizza, Dollar Tree (NASDAQ:DLTR), Wolverine Worldwide (NYSE:WWW). We are short Pall (NYSE:PLL), Mosaic (NYSE:MOS).
In our Options Portfolio, we are long Monsanto (NYSE:MON), Dollar General (NYSE:DG), Home Depot (NYSE:HD). We are short Facebook (NASDAQ:FB) and Tiffany.
In our Earnings Alpha Portfolio, we are long VeriSign (NASDAQ:VRSN), Seagate Tech (NASDAQ:STX), Apple, Disney (NYSE:DIS), and American Eagle Outfitters (NYSE:AEO). We have a reverse iron butterfly in F5 (NASDAQ:FFIV).
In our Goldman Sachs Up/Down Paper Portfolio, we are long MDC (NYSE:MDC). We are short AptarGroup (NYSE:ATR).
Chart courtesy of finviz.com.
Disclosure: I have no positions in any stocks mentioned, and no plans to initiate any positions within the next 72 hours.