ConocoPhillips (NYSE:COP) announced Q2 2012 earnings on July 25th. It was the company's first earnings announcement since completing the spin-off of its refining and midstream assets into Phillips 66 (NYSE:PSX).
The earnings announcement can be found here and I will not be going through the detailed results in this article. Instead, I will concentrate on making observations based on the conference call slides and executive comments made during the conference call. You can listen to a replay here.
Seven Segments
The new slimmed down ConocoPhillips is now reporting performance via seven segments. The segments are listed below along with a brief comment or two:
Alaska: This legacy asset contributed $551 million in earnings and is a very important source of cash for the company.
Lower 48 & Latin America: The company continues to ramp up production in its unconventional plays in the Eagle Ford, Bakken, and Permian Basin. This segment's earnings were down substantially due to low natural gas prices in North America.
Canada: While the company increased its overall production in Canada, adjusted earnings were negative due to low natural gas prices and high crude differentials.
Europe: Production was down due to asset sales and maintenance downtime. The segment benefits from a more favorable commodity price environment over North America. Production will begin to increase again in 2013 with startup of the Jasmine project.
Asia Pacific and Middle East: Earnings were $789 million in spite of the continued production curtailment in China. The Peng Lai field was producing 30 MBOED at the end of Q2 2012. If production permits are secured and enabled, the company expects production to return to a level of 110-120,000 BOE/day (gross) and 40-50,000 BOE (net). Meantime, this segment benefits from the higher LNG prices in the region as compared to N.A.
Other International: This segment includes Russia, the Caspian, and Africa. Production was up 24 MBOED over Q2 2011 primarily due to Libyan operations returning to normal. Earnings were down compared to last year due to commodity prices and foreign exchange impacts.
Corporate: It was suggested this "cost" segment will impact results by roughly $1billion for all of 2012 (roughly $250,000 a quarter).
Production Mix
The company slide show displayed a pie-chart (page 7) of Q2's sales volumes. These are summarized below:
32% - International and Alaskan Crude
25% - North American Natural Gas (Dry)
20% - International Natural Gas
9% - NGL
8% - N.A. Crude
6% - Bitumen
While 45% of this sales mix is gas, it should be noted the price of international gas was a very respectable $11.69/Mcf which was up substantially from $10.00/Mcf over Q2 2011.
Regional Production Mix
Total production for the quarter was 1.54 MMBOED. Of this, North America production contributed, by segment:
215 MBOED - Alaska
441 MBOED - Lower 48 and Latin America
268 MBOED - Canada
Total North American production was therefore 924 MBOED or 60% of total production. While various oil companies continue to claim force majeure in international hotspots such as Libya, Syria, and elsewhere, COP has a large and secure presence in North America. COP's golden goose Alaskan assets will easily fund production growth in its lower-48 Eagle Ford, Bakken, and Permian Basin plays.
Unconventional Production Growth
Q2 average production rates in the Eagle Ford, Bakken, and Permian Basin were 61, 25, and 51 (in thousands of BOE/day) respectively. The total of these three plays was 137,000 BOE/day - up 54,000 BOE/day over the prior year's quarter. That is a growth rate of 65%. The company has 31 rigs currently working these plays (17 in the Eagle Ford, 8 in the Bakken, and 6 in the Permian). Most of the company's acreage is currently held by production.
Liquid production in the lower-48 segment was +24% while dry gas was -8%. This reflects the company's shift in capital expenditures away from N.A. natural gas.
In Summary
COP continues its strong operational performance and its execution of the strategic plan: a focus on liquids production over dry natural gas; selling non-strategic assets to pay down debt, fund capital expenditures, and returning value to shareholders via dividends and stock buybacks; developing its vast unconventional resource acreage in the lower-48; and investing in strategic oil and LNG projects around the world.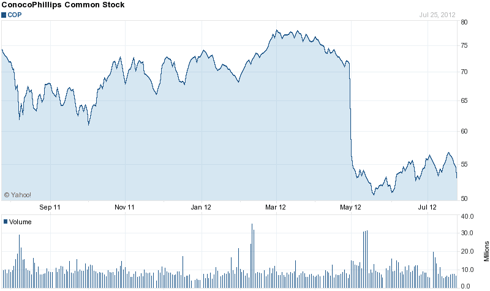 NOTE: The big drop back in May 2012 was due to the spin-off of PSX.
According to Yahoo Finance, the stock closed the earnings announcement day at $53.25 down 2.5%.
Dividend Yield: 4.7%
EPS (NYSE:TTM): $9.16
P/E : 5.8
Wow, those metrics sure look like a value stock to me.
The company states they aim to return 20-25% of cash flow back to shareholders primarily via dividends. Although COP executed very well on the spin-off, production losses in Libya and China couldn't have happened at a worse time. Still the company continued to earn gobs of cash. In the last year or so, in my opinion, COP has yet to announce earnings that reflect the company's true potential. Looking closely at the individual reporting segments, one can easily see how high-margin production growth in the lower-48 and LNG production in Australia will power future returns. In addition, there are signs that the glut in N.A. dry natural gas is starting to abate somewhat. While I think N.A. gas will be cheap for sometime to come, perhaps it has put in a bottom. Any relief on this front will fall straight to COP's bottom line.
In conclusion, one day soon COP will hit on all cylinders and release quarterly earnings that will blow away street estimates. The stock will follow the earnings higher. Meantime, investors should realize the potential here, bank the fat dividend, and take advantage of any weakness in the stock price to initiate or increase their position.
As I have been saying for years now, we are in an era when worldwide oil production will have much difficulty keeping pace with worldwide oil demand. This is why brent crude is $104/barrel even though the Eurozone is in trouble, unemployment in the U.S. is stubbornly high, and worldwide global growth is sluggish at best. With a 10 year T-bill yielding under 1.5%, investors should take advantage of high yielding oil companies that will protect them from geopolitical risks and future oil price spikes. COP is one such company. Chevron (NYSE:CVX) and Suncor (NYSE:SU) are a couple more. They will be reporting earnings soon so watch out for future articles from me on these companies. If you are looking for growth instead of income, consider Whiting Petroleum (NYSE:WLL) which will be issuing earnings after the close today.
Good luck with your oil patch investments.