Every year, investors participate in the markets with an idea of what they perceive to be "normal". They tend to base their concept of normality on a variety of inputs, such as historical returns, GDP growth, or even intangible qualities, such as feelings. Many investors consistently make decisions on what they perceive to be departures from or resumptions of their norm. I submit that one of the most relevant indicators of market activity is statistics. By relying on statistics to complement decision making, I believe that investors can greatly benefit. By examining statistics, we as investors can best position ourselves to profit from the uncanny habit of history tending to repeat itself.
A method of critically analyzing market behavior is historical distribution. A distribution analysis is done by taking historical returns and counting them if they fall within a specific range. The analysis tends to create a bell-shaped curve which shows the viewer what is normal within the specific time frame. A critical component of this type of analysis is the time frame of selection. For example, the normal returns across a week will certainly be less than the normal returns across a year. In order to put the market of today in proper perspective, I have decided to perform an analysis to determine what the normal return is from August to December in each year. This analysis simply examines the S&P 500 returns during this time of the year for each year starting in 1950. The chart below shows the findings of this study.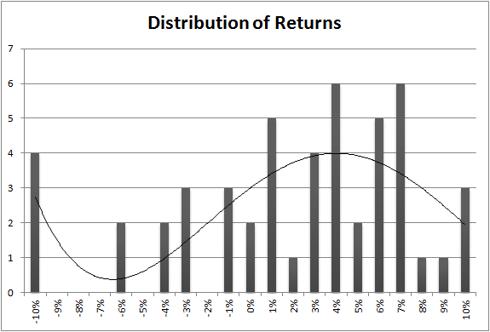 Click to enlarge
The chart paints a picture of 61 years of stock market history and how history tends to unfold for this period of the year. It is interesting to note that on average, the returns tend to be above zero. In fact, 74% of the time, from this time of the year through December, ends positive. The average return of each of these last few months is around 3.5%. Of the years that ended positively, their average performance was 7.3%, and of the years that ended negatively, their average performance dropped 7.4%. Taken as a whole, these statistics paint a very fascinating picture in that they show that 74% of the time, the market will increase between August and the end of December. According to this analysis, the market will more likely increase between now and the end of the year. Additionally, it shows us that if our bullish analysis is correct, and the market rises as predicted, we stand to potentially gain an average of 7.3% across the next five months.
As with any analysis, aberrations have to be taken into consideration. As noted in the chart above, there is a significant tail-risk. What this means is that the possibility exists for some years to blow past the estimate of around a 7% increase or decrease. In some years, such as 1987 and 2008, these five months yielded returns of around negative 30%. It is important to note however, that these events led to eventual market bottoms. As I have argued in other articles, I believe that we are out of the market collapse stage of the business cycle for the next few years. That said, I believe that we are positioned nicely to continue in what is "normal", or an increase or decrease of around 7%. As I have argued and will continue to argue, I believe that a variety of indicators such as the GDP, implied volatility, and the Volatility Index point to a continuation of the market's upward trend. I see a gain of 7% or more in the next five months as entirely likely.
With this in mind, I prefer to develop my thoughts fundamentally and execute my investments technically. I have found that this allows me to enter at a strategic moment and hopefully reduce the volatility of my investment. I believe that the S&P 500 could increase by 7%. This move, as reflected in the S&P 500 ETF (NYSEARCA:SPY), puts the market at or over $143 by the end of the year. From a technical standpoint, this is entirely possible, given the previous strong upward trend on the weekly time frame. With such forces at work, I see it possible that we push past this barrier and into possibly higher prices above the 7% target.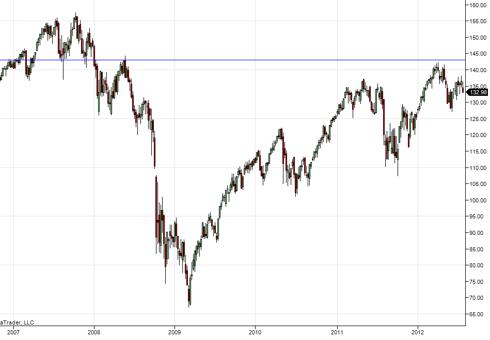 Click to enlarge
Disclosure: I have no positions in any stocks mentioned, and no plans to initiate any positions within the next 72 hours.