Chipotle Mexican Grill (NYSE:CMG), our favorite company in the restaurant industry, opened Friday at $403.66 and fell to $316.98 by the closing bell. This 21.51% nosedive is the stock's worst single day performance since its IPO in 2006. While the company managed to beat earnings projections with $2.56 per share versus the $2.30 per share estimate, it did not meet revenue projections or comparable restaurant sales, posting a revenue number of $690.9 million versus the $707.1 million estimate and comparable sales growth of 8.0% verse 10.1%.
If you look at our previous article, Buy A Chipotle Burrito, Not The Stock, we predicted this downward movement. In the past 5 years, Chipotle's earnings and revenue have skied upwards without so much as a hiccup. As a result, institutions and individual investors rallied behind Chipotle's great story and pumped the stock to $440 a share. Although Chipotle was achieving impressive profits, the stock's meteoric rise certainly made the company overvalued. Even its CFO, Jack Hartung, sold his own shares as the stock climbed over $400 (Below is a chart that shows Hartung's selling of the stock).
| | |
| --- | --- |
| Date | Price |
| 4/10/2012 | $428.24 |
| 4/10/2012 | $427.41 |
| 4/10/2012 | $426.38 |
| 4/10/2012 | $425.46 |
| 3/27/2012 | $424.79 |
| 3/27/2012 | $423.93 |
| 3/22/2012 | $415.82 |
| 3/22/2012 | $414.90 |
| 3/22/2012 | $414.13 |
| 3/19/2012 | $409.85 |
| 3/19/2012 | $409.08 |
| 3/19/2012 | $407.68 |
We all know Mr. Market certainly tends to be an extremist in the short-term, overreacting to both good or bad news on earnings days. This kind of earnings overreaction is exactly what happened with Chipotle. On the conference call, the executives cited the poor economic climate and a decrease in consumer confidence as key reasons for their metrics falling short of expectations. The company did not fully address the issue of how the massive drought in the United States is currently affecting margins, but the drought has certainly weighed on the minds of investors. The combination of these downward catalysts, coupled with a pricy valuation, was what drove the stock downward on Friday.
As a reaction to Chipotle reporting below revenue expectations, investors need to be on high alert as other upper-scale restaurants report their earnings. This segment includes Whole Foods Market (NASDAQ:WFM) down 7.2%, Starbucks (NASDAQ:SBUX) down 4.1%, and Panera Bread (NASDAQ:PNRA) down 3.8%. These food-retailers should continue to experience volatility as Panera (Today), Whole Foods (25th), and Starbucks (26th) all report in the coming days. It will be interesting to see if these companies experience a revenue slowdown similar to Chipotle's.
When we warned our readers to stay away from Chipotle in the $400 range, it was not because we did not believe in the company's fundamentals-we simply believed CMG was grossly overvalued. We actually love the core fundamentals of the company and think that Chipotle still has great potential for future growth. We believe that growth will come from new stores (Chipotle has a relatively low 60% penetration in the U.S.) and store traffic will continue to rise as the restaurant promotes its "Food With Integrity" mission statement. Chipotle's Shophouse Asian Kitchen continues to sit on the company's back burner as well as its further expansion into Europe. These are also huge outlets for growth in the coming years.
The price target for our base case is $354, while the price target for our bull case is $410. With the current price at $302 These price targets leave us with an upside of 15% and 26% respectively.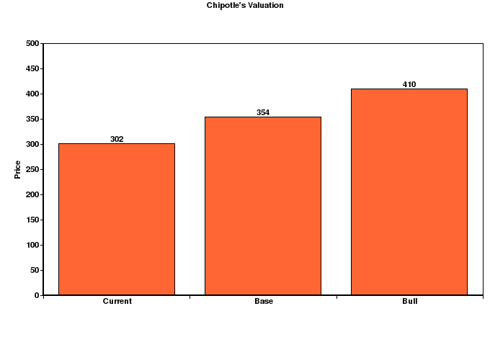 Although it can be scary to buy a stock when it has fallen so quickly, we encourage you to channel your inner Baron Rothschild and "Buy when there is blood in the streets."
Disclosure: I am long CMG.