At 1:45 EST today, I wrote an Instablog alerting readers that I was covering my shorts at DJII 12725 and S&P 1342. This was based on the Model that some of you are now familiar with. A quick look suggested momentum was picking up on the upside.
My intraday analysis is kind of confirmed by the close, at 12676, but not quite. The IShares $ High Yield ETF (HYG) is not cooperating. While the DJII has picked up some 90 points since the 7/23 intraday low of 12583, HYG did not hold its rally and closes at $90.45, below its 7/23 intraday low of $90.60. I know, this may be nickel and diming, but I am bean counter. Last I checked, it feels like the leveraged stocks are getting the brunt of this correction. This happened last July, and you know that script. So I put my shorts back on - who wants to swim naked? Let's see who wins in the next few days, the Model, or the Black Swan, a.k.a The Cliff and The Europe.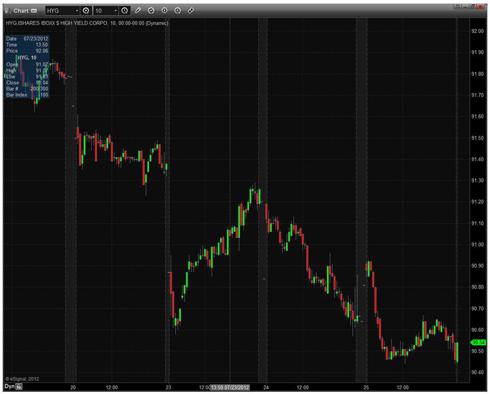 Click to enlarge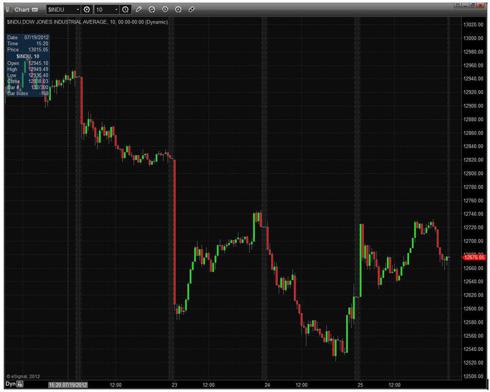 Click to enlarge
Here is a summary of what happened since my last update, on July 13.
The Dow Industrials closes down 0.79%, and as usual, the standard deviation of each component's relative performance (RP) is large, at 2.7%. Indeed, the average RP is greater than usual, at 0.8%. This in itself does not provide any information, except to validate once more the Model approach and the value added by stock picking. The question really is "is the Model working?"
One thing for sure, it looks oversold. At 1:45, the OB/OS ratio was at 0.48 - with the late pullback, it closes even closer to support, at 0.36. I updated the trading ranges, but there was no change, really. Overall, it stands at 12448 - 13021, with a target objective of 12760.
With regard to the momentum ratios, they are no longer topish, to the contrary. A reading of 1.97 for MAC (moving average convergence) and 1.93 for AA (modified RSI oscillator) are usually indicative of a good bottom. So as I said at 1:45, the Model looks more positive than in the past three weeks. This begs for a rally, especially since I feel confident in the trading ranges I have picked for individual stocks. Since July 13, 14 stocks bounced back from their expected resistance levels, and 9 off their support - by my experience, this is a fairly good batting average.
But as I said at the close, HYG is not confirming this trend, to the contrary. This has been a fairly reliable indicator through the recent months, and I cannot ignore this divergence. So, for once, I will leave you with "on the one hand, but on the other."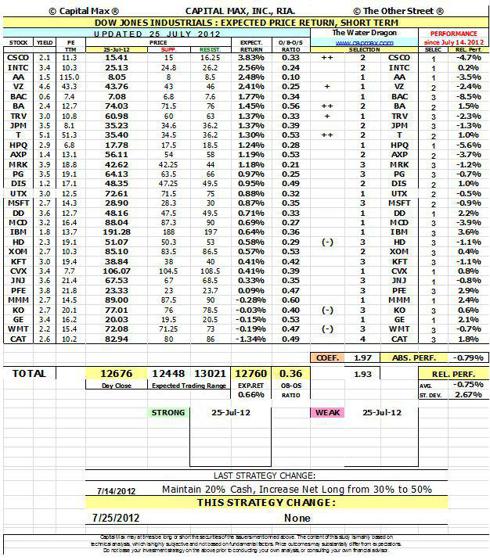 Click to enlarge
Disclosure: I am short HYG.
Additional disclosure: I covered my usual list of disclosed longs with SDS.