Level 3 Communications (NYSE:LVLT) announced second quarter 2012 results on July 25 reporting anemic top line revenue growth resulting in a selloff. The stock closed down $1.98 or 9.7%. Was the selloff warranted? We'll look at reported revenue then calculate the minimum revenue growth in the second half of 2012 required to meet EBITDA and FCF (Free cash flow) guidance reiterated by management.
REVENUE
What spooked the market was core network services revenue grew $4 million from $1382 million in Q1 to $1382 million in Q2 or 0.29%. This is equivalent to a yearly growth rate of 1.1%, a rate that will not support current price levels. If this is the new norm than the selling is warranted but is it? The answer lies in EBIDTA and FCF guidance.
EBITDA and FCF Guidance
Sunit Patel was quoted in the earnings release:
We are reiterating the guidance we provided earlier this year. We expect to see CNS growth performance improve in the second half of 2012 given the strong CNS sales we saw in the second quarter, and we remain confident in our expectations for 20 to 25 percent Adjusted EBITDA growth for the full year 2012 from the starting point of $1.216 billion of pro forma Adjusted EBITDA for 2011.

We continue to expect capital expenditures for the full year 2012 to be approximately 12 percent of total revenue, and we continue to expect to generate positive Free Cash Flow for the second through fourth quarters of 2012, in the aggregate.
The low end of guidance would be $1.459 billion or an increase of 20%. EBITDA for the first half of 2012 is $680 million. They need to generate $779 million, a 14.6% increase in the second half to meet their low end of guidance. It takes a year over year growth rate of 6% through the second half to accomplish this. Details are as follows: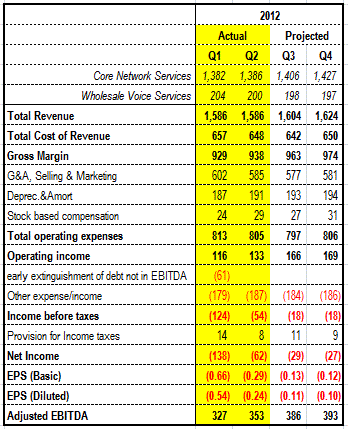 Where is this growth coming from? The high margin enterprise segment as shown below: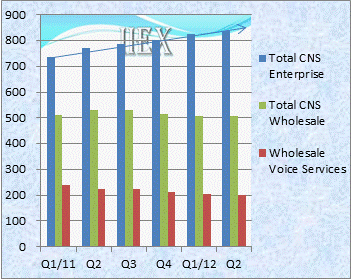 Growth over 2011Q2 is 8.8%. Wholesale is starting to level off helping overall growth rates in the second half.
The growth rate must also produce "positive Free Cash Flow for the second through fourth quarters of 2012, in the aggregate." LVLT defines FCF as "Net Cash Provided by Operating Activities of Continuing Operations" minus "Capital Expenditures." Capital expenditures are forecast as 12% of total revenue. Using this rate along with 6% growth produces negative FCF in Q3 but this still satisfies guidance. How? They did not forecast positive FCF for each quarter but in the aggregate which is satisfied.
Access to complete detailed financial results and projected numbers used in this article can be found here.
CONCLUSION
Based on the current outlook the selloff is not warranted but it takes faith that management will meet or exceed their current business outlook and the trends will continue well into the future. The second half will define success or failure. In the meantime this is a speculative investment until actual results start to support guidance.
Disclosure: I am long LVLT.