The executive team of a small but quickly growing private web company is sitting around the table. It's late, but they have coffee, and a very important decision to make.
"Guys," says the CEO, stroking his stubble, "I think we should go public."
"But we don't make any money," replies the CFO.
"And we don't really have a solid business plan," replies the COO.
The CEO shrugs. "So? Look around you. Neither does anyone else -- and they're all going public. C'mon, people. We'll figure it out later."
Now quick, tell me: Is the above fictional conversation taking place in the late '90s tech bubble, or is it happening today?
Could be either, but today, I'm talking about Zynga (NASDAQ:ZNGA), which has an embarrassing problem. Like Groupon (NASDAQ:GRPN), Zynga shot up like a rocket ship, collecting users more quickly than anyone thought possible. As the ship was flying into outer space, the executive team wanted to cash in their chips, so they hit the "eject" button a little prematurely. In other words, they went public. The company's momentum carried it up for a little while, but then gravity took its toll, and the stock started to fall. Then it fell, and it fell, and then it fell some more. It never stopped falling, and after today's dismal report, you can expect a whole lot more falling.
"The results are a disaster," said Sterne Agee & Leach analyst Arvind Bhatia. The analyst suggested that the games on which Zynga built its fortunes may not have much staying power. "It's looking more and more like this might have been a fad."

- Fox Business, "Zynga Disappoints Investors With Lackluster 2nd-Quarter Report"
(click image to enlarge)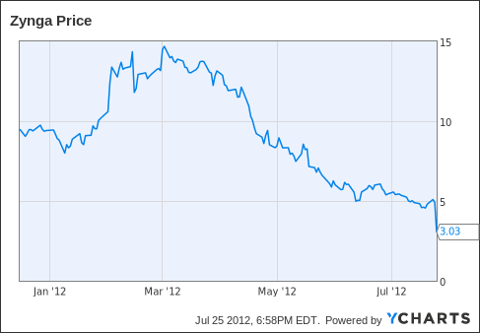 There are a lot of problems with Zynga. The most fundamental is that, like Groupon, the company didn't really take the time to figure out a business plan, or how it would make money, or anything. The executives just wanted to go public to cash in. So go public they did. At Zynga's peak ($15.91), the company with no earnings had roughly the same market cap as Seagate Technology (NASDAQ:STX), a highly profitable 40-year-old hard drive company with over $1.5 billion in FCF.
On the other hands, Zynga had a very large userbase and little in the way of monetization. Worse, as Arvid Bhatia said, it's looking like Zynga's games might not have much staying power, with users leaving for other games like Rovio's Angry Birds.
I'll admit, I was curious as to how exactly Zynga roped people in. So I went on Facebook (NASDAQ:FB), and played FarmVille for a few minutes. Planted some virtual strawberries. I wasn't enthralled. (If you've read my previous articles, you'll know that I do actually enjoy growing real strawberries.)
Nonetheless, I saw how FarmVille could be addictive to a certain segment of the population. But then I tried another one of Zynga's games. And another. The game mechanics were essentially the same. In fact, I'm fairly certain the code might have been the exact same, just with different images and settings. All of Zynga's games went something like:
Perform action (make food, plant stuff, etc)
Wait X amount of time for action to complete
Come back, perform subsequent action (serve food, harvest crops)
Make money/points/whatever
Rinse and repeat
Essentially, once you've played one Zynga game, you've played a whole bunch of other Zynga games. Which means there's not a lot of variety, which means people get bored and leave, which means Zynga didn't utilize a very good strategy. That strategy's catching up with the company:
For the full year, the company cut its EPS outlook to a range of 4 cents to 9 cents, down from a range of 23 cents to 29 cents offered back in April. Bookings are now expected in a range of $1.15 billion to $1.23 billion, down from the April forecast of $1.43 billion to $1.5 billion.
Zynga has branched out, of course -- it has poker and bingo and various other games as well. But a quick web search reveals that there are dozens of other online venues for poker and bingo. Does Zynga offer anything special that will keep people coming back? Does Zynga have staying power? According to the results, no.
So back to Zynga's premature ejection into the world of public companies. While the stock has fallen nearly 70% from the IPO price, and over 80% from the high, the sad part is that the company is still not cheap. Given the full year guidance of 4 - 9 cents EPS, the current stock price of $3 represents a multiple somewhere between 33 and 75. For a company that's bleeding money and can't keep users around, that looks pretty expensive, and I think the stock could continue to see declines until Zynga shores up its act and proves it can make some money.
Am I predicting Zynga will go bust? Not necessarily. The executives may yet figure things out and turn the company around. But Zynga should serve as a cautionary tale to investors, because like Groupon, it made the mistake of going public before it had a real business plan -- or as I like to say, it put the share price before the earnings horse.
Getting in on IPOs can be exciting because of the "pop." But whenever a company goes public, make sure that you're actually comfortable owning shares of the company at the IPO valuation. Because if you're not, you end up with the same things as Zynga: evaporated dreams and a disappointed audience.
Zynga may look like a bargain at the current share price, but don't kid yourself. It's far from cheap. Until and unless Zynga can actually make some money, I'd recommend staying well away from the stock.
Disclosure: I am long STX.