History of Baidu

After incorporation in January 2000, Baidu, Inc. (NASDAQ:BIDU) was the seed company of the millennium. Twelve years down the line, the seed has developed into a towering tree producing mouthwatering fruits for investors who were optimistic enough then. Overall, the company offers an assortment of web services, including 57 web-search and community services. A quick look at the range of services offered by the company reveals that Baidu has indexed close to 700 million web pages, over 75 million images and 10 million audio files. Investing in the largest search engine in the most populous country across globe sounds like a viable investment.
With a workforce of 16,000 individuals, the company benefits from the accompanying ingenuity and creativity. Ben Parr of Mashable Tech reported that 99% of the 500 million Chinese web-services users utilize Baidu. A closer look at the growth in the number of Internet users reveals an increase from 50 million to 500 million, a whopping 900% growth rate within the last ten years. That's the kind of growth you will expect for your investments since each additional customer represents growth in business.
Competitor Analysis: How does the competition measure up?
If anyone had broached the subject of investing in social media three years ago, you would have probably labeled that person crazy. I personally would not have found the nerve to invest in Facebook (NASDAQ:FB) three years ago. However, I am sure you hold a different opinion in this matter. Social media was an untapped market, making it impossible to project the extent to which people would adopt the buzz. That's exactly what's happening to Baidu.
Click to enlarge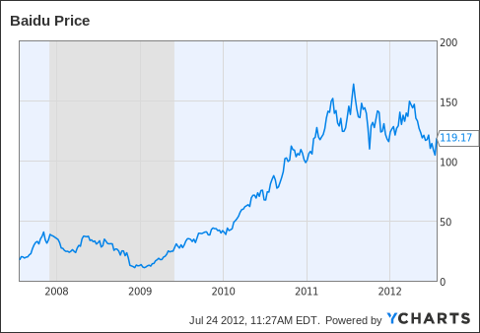 Luckily for us, Baidu has entered a market which has already been tried and tested, primarily by Google Inc. (NASDAQ:GOOG). The Chinese market has numerous competitors including Tencent Holdings (OTCPK:TCEHY) [4.2%], Alibaba (OTC:ALBCF) [15%], Sohu.com (NASDAQ:SOHU) [7.3%], Google China [7.2%], and Google [7.2%]. Baidu is at the top with a 28.7% market share. In spite of a relatively medium market capitalization, net income was $10 billion for Baidu with a 29% five-year growth rate.
Yahoo! Inc. (NASDAQ:YHOO), with a market cap of $19 billion, managed a net income of $1 billion. Five-year projection for growth in revenues at Yahoo is slated at -5% due to the dwindling market share. Tencent Holdings has a market capitalization of $53 billion and a net income of $10 billion. Projections for growth in revenues were at 59% with a price-to earnings ratio of 33.2. Baidu has a market capitalization of $38.2 billion, with revenue-growth projections at 75%. This is more than double the industry standards. Actually, 5-year projections indicated that Baidu stands to post similar performance standards.
Financials Analysis: Does the Chinese Google really measure up?
The company draws 80% of its profits and incomes from continuing operations. This means that this performance is sustainable to the foreseeable future. Financial projections indicated that the lowest expected growth rates for the shares were at 11%, which is a favorable scenario by all means. Baidu has doubled its net worth on a year-to-year basis in the past three years according to analysis by Thomson Reuters. Cornelius of VectorVest pointed out that the company has an exceptional and incomparable Comfort Index Rating. Assets grew from $900 million in 2009 to $3.7 billion in 2011, which is a fabulous growth. Debt to equity ratio is maintained at 0.14, which is way lower than the industry average of 0.8. At the same time, a quick ratio of 4.3 indicates that the company can fulfill short-term obligations. Profit margin and ROE are 45.6% and 55.7% respectively, both of which outrun their industry averages. Based on its indicators, Baidu has a D Grade O-Metrix score of 3.56.
Click to enlarge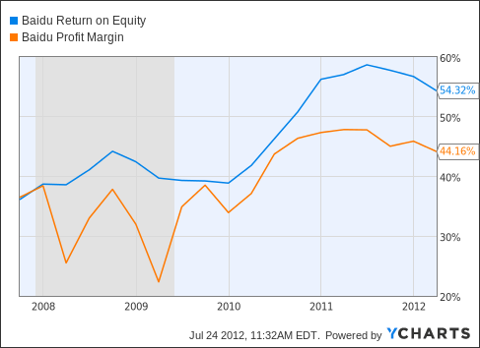 BIDU Return on Equity data by YCharts
Baidu in the Bourse
For the past one year, share prices have oscillated between $105 and $155, averaging at $140. The company doesn't offer cash dividends, which is a plus to investors who prefer long-term benefits. Retention of earnings has enabled the company to steer away from debt, driving the EPS to a high of $4.59 in 2011 up from $3.02 in 2010. I am sure you will find this an interesting investment, since the EPS for the industry was in the negative territory. Capital gains are way better than revenue gains due to compounding factor over time. Over time, you will be earning dividends on your investments and from previous dividends, which become part of your shareholding.
Benefiting from 800 years of investing bundled into 10!
As an investor, I have one strategy: When the stock market is down, buy more, and when prices start rising, buy even more. I find this the best move since at any point, relative share prices are all that matter since I am in it for both short and long term. Realities of investment in China are clouded by reports of political influence and censorship. The success of Baidu in the country is directly linked to the exit of Google. Other upcoming tech start-ups operate in the same market, including companies such as Yahoo and Facebook. It is worthwhile to note that the company has numerous holding entities to protect its investments from this political influence incorporated outside the country.
Current growth projections point towards an attractive source of returns for investments, in terms of profitability and returns to owners. Owning a piece of the Chinese giant is bound to drive your investment portfolio. In addition to providing diversification, I am convinced that numerous opportunities exist in this company. Considering the success of the competitors such as Yahoo and Google, buying into this company will definitely improve your portfolio.
Disclosure: I am long GOOG.