Shares of social game service company Zynga Inc (ZNGA) fell by more than 38% Wednesday night after the company missed earnings expectations.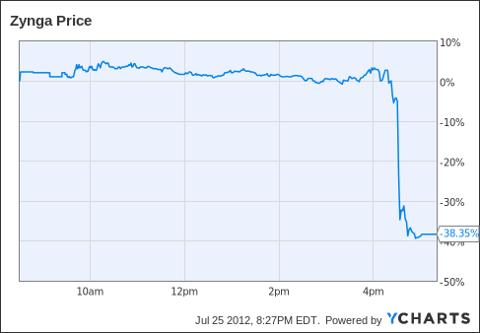 Click to enlargeZNGA data by YCharts
Earnings Report Highlights
Earnings of 1 cent per share compared to expectations of 5 cents per share.
Bookings outlook cut to range of $1.15 billion to $1.225 billion from $1.5 billion.
Full year earnings expected to be between 4 and 9 cents per share compared to Wall Street estimates of 26 cents per share.
Daily active user count increased 23% to 72 million.
Plans to focus on growing mobile business.
My Take
In my opinion, it is to early to write off ZNGA. While the earnings were certainly a disappointment, long-term potential remains. The fact is, social gaming is here to stay and ZNGA is the market leader. One area of potential is online gambling, if online gambling is approved it would certainly be a big win for ZNGA. Zynga Poker has already proved to be incredibly popular and Zynga has been in talks with Wynn Resorts (WYNN) about an online gambling partnership. I also believe it is possible that ZNGA is acquired by another company. Given ZNGA's strong foothold on the social gaming market, I think possible buyers could include Facebook (FB), Google (GOOG), Electronic Arts (EA), Microsoft (MSFT), and even Apple (AAPL). Considering that ZNGA has $1.44 per share in cash, the company is even cheaper than it appears. For most of the company's previously mentioned buying ZNGA would be a rather small acquisiton with a lot of potential.
Buy Calls
The way in which I would express a bullish position in ZNGA is by buying long dated calls. I would suggest looking at the January 2014 5, 5.50, and 7 strike calls. The price of these call options should decline significantly on Thursday in response to the drop in the stock following earnings. By buying call options, investors are limiting risk to just the premium paid for the calls.
Disclosure: I have no positions in any stocks mentioned, and no plans to initiate any positions within the next 72 hours.