The E-Mini S&P 500 trended lower on the US New Home Sales report. US single-family New Home Sales decreased 8.4% to a seasonally adjusted 350,000 unit annual rate. New home sales were up 15.1% and the median home price decreased 3.2% from last year. Even with low-mortgage rates, new home mortgage applications were down.
The 8.2 % unemployment rate may have contributed to the poor home sales data. Out of the 195, S&P 500 companies that have reported to date, 63% have exceeded expectations. Boeing and Caterpillar were the star performers. Boeing Co. (BA) was up 3.07% to $74.24 as sales were up 21% to $20 billion due to shipment of about 150 airliners, F-15 fighter jets to Saudi Arabia and increased expectations for this year. Caterpillar Inc. (CAT) was up 1.50% to $82.65 on 67% increased quarterly profit. Ford (NYSE:F), on the other hand, was down as second-quarter net income decreased 57%.
Despite Greece's ultimate failure to reach any of its budget targets, the Euro Zone has not given up on the wanton nation. Greece is forecast to contract by 7% this year and is thought to be in a deep recession to depression by many analysts. The planned privatization revenue should come in at about $12 billion euros by 2015 and the growth estimates are looking more optimistic in a couple of years.
The leaders from the European Commission, International Monetary Fund and the European Central Bank arrived in Greece on Monday to determine if a bailout is warranted. Their actual decision will be given in August. A bridge of about $100 billion euros was given to carry the country until the reviews take place. It is doubtful that Greece will be able to pay off the debts and remain on course. A ray of hope may be in mining. Eldorado Gold Corp. (NYSE:EGO) has asked for approval to go ahead with a gold mining project in Northern Greece which has been approved. The judges thought the project beneficial to Greece. Typically, Greece relies on tourism which currently is down substantially. The company plans to invest about $1 billion in Greece over the next few years.
Spain's bond yields have hit the non-sustainable 7% + levels bringing a larger economy in focus for a bailout. Valencia and other regions have come in to ask for rescue funds. Finance ministers have requested that a single supervisory mechanism be placed on the common Euro Zone banks. They are further working on direct funding by the permanent European Stability Mechanism to banks making both the permanent and the temporary European Financial Stability Facility more efficient and flexible. The banking license would add to the capabilities of the funds in battling the debt crisis. The EU constitution must be amended and ratified by all the states in order to go into effect. While the debt crisis is far from over, the optimism behind the plans to counter the contagion fears are a relief to investors, hence the relief rally?
On the stock side: JP Morgan Chase and Co. (JPM) was up 1.93 % to $35.40. Citigroup Inc. (C) was up 3.35 % to $26.09. Bank of America (BAC) was up 0.50 % to $7.08. Alcoa Inc. (AA) was up 1.31 % to $8.13. Boeing Co. was up 3.07 % to $74.24. Caterpillar Inc. was up 1.50 % to $82.65. General Electric Co. (GE) was up 0.30 % to $20.03. Halliburton Co. (HAL) was down 1.08 % to $31.21. Hewlett Packard Co. (HPQ) was down 1.28 % to $17.75. SPDR Select Sector Fund - Financial (XLF) was up 0.28 % to $14.25.
E- Mini S&P 500 Chart.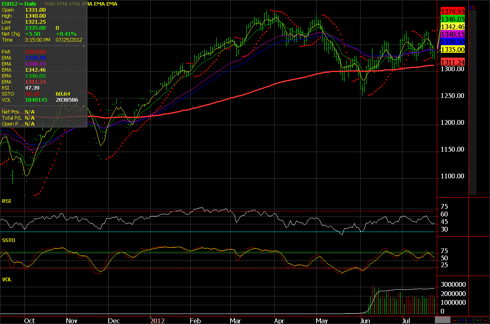 Click to enlarge
Thursday, what to expect: We maintain a bearish bias unless the (September) E-Mini S&P 500 penetrates $1375.00. Thursday, we anticipate an inside to higher day. Wednesday's range was $1340.00 - $1321.25. The market settled at $1335.00. Our comfort zone or point of control for this market appears is $1332.75. Our anticipated range for Thursday's trading is $1345.50 - $1327.50.
Disclosure: I have no positions in any stocks mentioned, and no plans to initiate any positions within the next 72 hours.