On Tuesday, Denny's (NASDAQ:DENN) reported its 1Q 2008 results (see conference call transcript).
Revenue down to $196 million from $236.8 million in 1Q 2007
Franchise revenue up 26% to $26.4 million from $20.95 million in 1Q 2007
Cost of sales $175.81 million from $224.08 million in 1Q 2007
SSS increased 0.7% an company-owned units and decreased 0.9% at franchise-operated units
Company restaurant operating margin down to 10.7% from 11.3% 1Q 2007
Net income up to $4.98 million ($0.05 per share) from $1.16 million ($0.01 per share) in 1Q 2007
Profit margin 2.54% from 0.49% in 1Q 2007
Diluted share count 98,388,000
$18.56 million in cash
Total debt $353.9 million
Opened nine franchise-operated restaurants and one company-owned restaurant
Closed one company-owned restaurant and five franchise-operated restaurants
Sold 21 company restaurants to franchisees
Guess check average up 5.7%, guess count down 4.7%
Operating total of 1,550 restaurants (1,177 franchise-operated, 373 company-owned)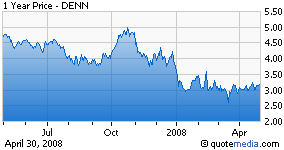 Denny's beat EPS estimates of $0.04 as well as the $190 million in sales expected from analysts. This was a very strong quarter, although I want to see cash flow results before I say anything too firm. To turnaround, Denny's needs to pay off its large debt load and the only way to accomplish this is by producing strong cash flow sufficient enough to both fuel the business and pay off debt. Nothing else in the long run would work too well.
I must say that I am very happy with the moves management is making. The new advertising campaigns are well thought out, in my opinion, and a good first step to revamping the restaurants. Efficiency is greatly improving at the bottom line every quarter, which is always nice to see. I'd really like to see same-store sales stay positive and more consistent for both company and franchise units. It seems that things are moving that direction little by little; same-store sales this quarter were better than in the 1Q 2007.
With a company in a situation like Denny's it's important to not get too impatient. Sure, some things are going a little slow, but we must remember that last year the company produced $50.30 million in cash while paying off $104.34 million of debt. This is what we need to see and it's largely because of the strong cash flow production and new sound debt management that I remain confident in the company and management.
For the 2Q 2008, analysts are expecting an EPS of $0.05 on sales of $188.66 million.
Disclosure: Author has a long position in DENN