According to Yahoo Finance, Veolia Environnement SA (VE) and its subsidiaries provide environmental management services to public authorities, individuals, and industrial and commercial customers worldwide. It operates in four segments: Water, Environmental Services, Energy Services, and Transportation.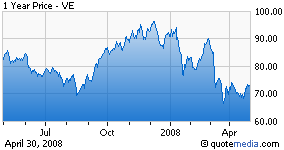 Veolia is a French multi-national company that provides infrastructure development and support in developing countries. Its largest segment, concerns water and the company helps provide clean water to more than 67 million people.
Veolia has an advantage over its competitors in that its average contracts last for 10-15 years with an annual renewal rate of 90%. Places like Russia, China, India, Africa and eastern Europe have a severe shortage of clean water, as well as a lack of transportation and energy infrastructure, which are the roots for long-term sustainable development and growth. Emerging markets require these necessities to flourish and step up to the "emerged" category.
With over 70% of its sales outside the US, Veolia is not subjected to a US recession, although an economic slowdown in Europe would impact its earnings. The strong Euro though, has also helped the company with earnings. Last month, Veolia disappointed investors by missing revenue and earnings expectations, however, the precipitous drop following the earnings is a great opportunity to own this name.
Goldman Sachs upgraded the stock last month, but overall, the stock is still down 25% from its high of $96 in Dec. With a dividend close to 4%, and the water/infrastructure arena poised for long-term growth, Veolia is a bargain at current levels.
Full Disclosure: I do not own VE but my position can change anytime without notice.