Shares of Baidu (NASDAQ:BIDU) have declined 15.77% over the past 3 months primarily owing to the slowdown concern for China. The strong Q2 earnings release on Tuesday has helped the stock recoup some losses with an 8% intraday gain. I believe there remains a solid upside over the long-term for the stock given its attractive valuations, dominant position in the Chinese on-line search market, robust growth potential with a lot of initiatives taken, and healthy financial fundamentals.
In this article, I will illustrate the rationales supporting my view on BIDU.
My value analysis includes Tencent Holdings (OTCPK:TCEHY), Yandex (NASDAQ:YNDX), SINA (NASDAQ:SINA), and Google (NASDAQ:GOOG) as BIDU's comparable peers. The estimated stock value is determined by equally weighting the valuations calculated by four different multiples - EV/Sales, E/EBITDA, P/S, and P/E.
In addition to its core on-line search business, BIDU has taken many initiatives to diversify its portfolio of businesses to continue sustain its high growth stance. The penetration to mobile phone business is one example.
Hence, Street analysts predict the revenues, EBITDA, and EPS to grow substantially at a 2-year CAGR of 49.0%, 43.5%, and 46.4%, respectively, over the current and next fiscal years. Accounting for the earnings growth, BIDU only trades at 0.5x PEG, indicating a significant valuation discount to the growth prospects. BIDU's PEG is also the lowest among the peer group, which has an average of 0.9x (see comparable analysis table below).
BIDU's profitability performance also dominates the peer group, especially for ROE and ROIC, which is almost double the peer group averages. The firm also has the highest FCF margin at 28.6%. Although its debt level is higher than the group average, the robust FCF generating capability helps the company maintain a very liquid balance sheet as reflected by the high level of current and quick ratios. Moreover, BIDU currently sits on $2.4B net cash, amounting to about 6% of the current market cap (see comparable analysis table below).

At $114.41 per share, the stock is trading at 26.4% premium over the four peer average valuation multiples. In my opinion, this valuation gap should be fully justified by BIDU's superior growth potential and financial excellence, implying the stock is reasonably priced relative to its peers (see relative valuation table below).

In addition, both of the EV/EBITDA and P/E multiples are very close to their 52-week lows (see chart below).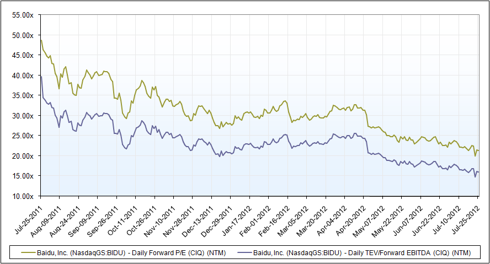 Moreover, analysts are generally bullish on the stock. Of the 29 ratings, there are 13 strong buys, 12 buys, and only four holds. The mean target price of $173.58 suggests a substantial 52% upside.
Bottom line, although BIDU is a volatile stock with a 60-month beta of 1.84, I recommend investors acquiring the shares at the current price or establish a long position by selling out-of-money put options, and investing in the firm over the long-term.
Disclosure: I am long BIDU, GOOG.
Comparable analysis and relative valuation tables are created by author, valuation multiple chart is sourced from Capital IQ, and all financial data is sourced from Morningstar, Capital IQ, and Thomson One.