Barron's Online is running an interview this week with the manager of the T.Rowe Price Latin America Fund [PRLAX]. I usually enjoy reading the thoughts of fund managers (as opposed to analysts), and this article is worthwhile. Furthermore, Barron's tells us that this fund was Morningstar's top performing (all sectors) fund over the last three years (many Latin American funds filled the top slots) with an annualized return of 54% over the last 3 years.
Fantastic I thought.
Whilst preferring to invest in ETFs and CEFs I'm always interested in what makes a successful mutual fund tick. So my first move was to look at the component holdings and compare performance to a comparative index ETF; in this case the iShares S&P LatAm40 (NYSEARCA:ILF). It was a mix of surprise and admiration to see that ILF has outperformed/matched PRLAX consistently over the past five years (figures rounded):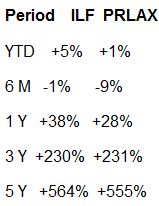 Admittedly, PRLAX benchmarks itself to the MSCI Latin America index, disclosing on its website that it has underperformed that benchmark over the last year.
Summary: In my view this is another good example of the inevitable demise of higher cost active management (and surely Barron's should have highlighted this ETF fact in their article!)
Disclosure: none