Crystallex International Corp. (KRY) shares dropped like a rock after the company released a statement that put doubt in investor minds about the future exploration of Crystallex's Las Cristinas mine in Venezuela.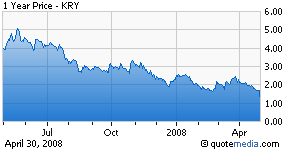 In the statement, the company said it has become aware that the Director General of the Administrative Office of Permits at the Ministry of the Environment and Natural Resources of Venezuela ["MinAmb"] has issued a communication to the Corporacion Venezolana de Guayana ["CVG"], the owner of the Las Cristinas concessions, that denys an authorization request that would allow natural resources to carry out exploration activities in the mining area of Las Cristinas.
Crystallex said the communication appears to be in conflict with the Environmental Impact Statement [EIS] approval granted to the company by the government last summer, and are "committed to defending its rights in the Las Cristinas project and intends to respond to this matter vigorously in accordance with its legal entitlements to protect the interests of our shareholders."