Oregon-based Lithia Motors, Inc. (NYSE:LAD) is a $702 million small-cap automotive franchisee and retailer of new and used vehicles. The company is involved in selling new and used cars/light trucks as well as replacement parts/service. It also provides maintenance and repair services, and offers financing. Lithia operates 84 stores and offers 25 brands of new vehicles and various brands of used vehicles.
Lithia is nicely undervalued with a forward P/E ratio of 9.81, a PEG of only 0.47, a low price-to-sales ratio of 0.22, and an attractive price-to-book ratio of 1.69. With the PEG ratio under one, Lithia is attractively priced in relation to expected earnings growth.
The company just reported great numbers for Q2 2012. Net income increased to $20.5 million or 78 cents per share. This was a 42% increase over Q2 2011. Revenue increased to $847.1 million, which was 26% higher than last year's second quarter. Lithia beat quarterly earnings estimates by 21%.
New vehicle same-store sales increased 34%, while used vehicle same-store sales increased 20%. Lithia is benefitting from the growing amount of older vehicles on the road as they need to be serviced or replaced. Service, body, and parts same-store sales increased 7% for the quarter.
Lithia raised its full-year earnings forecast as it achieved an increase in sales of new cars. The company now expects earnings per share to be between $2.69 and $2.75 for the year from an earlier forecast of $2.45 to $2.53.
The company continues to acquire new stores. During Q2, Lithia added a $40 million Chevrolet Cadillac store. It also added a GMC and Buick franchise and Dodge and Ram franchises with total estimated revenues of $35 million.
Lithia is expected to grow earnings annually at 21.13% for the next five years. This growth should allow the current stock price of $26 to rise to approximately $70 in five years. This growth should also allow the company to outperform the S&P 500 for at least the next five years.
Click to enlarge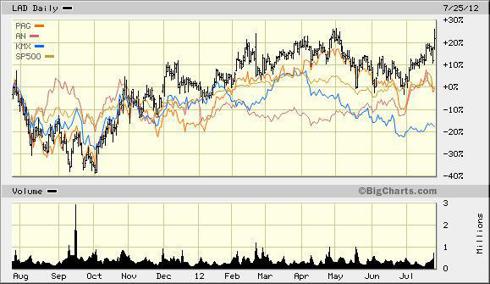 Lithia is not just outperforming the S&P 500, but it is also outperforming its competitors: CarMax (NYSE:KMX), AutoNation (NYSE:AN), and Penske Automotive (NYSE:PAG), in terms of stock price. This is illustrated in the one-year chart. Now, granted Lithia's competitors are still successful. However, Lithia is showing some healthy momentum and should continue to be a strong investment for the future.
Disclosure: I have no positions in any stocks mentioned, and no plans to initiate any positions within the next 72 hours.