Let's not get hung up too much really on quarters.

-Philip Morris (NYSE:PM) CFO Hermann G. Waldemer on the second quarter conference call
Here are some headlines from the love letters written about Philip Morris' second quarter:
Let's have Philip Morris CFO Hermann Waldemer debunk the hype for us.
1) A Slowing Second Quarter
First of all, business slowed down from Q1 to Q2.
Here's Hermann on the call:
Net revenues and adjusted OCI, excluding currency and acquisitions, were up by 2.9% and 3.5%, respectively. Without the Japan hurdle, our growth rates would have been in line with our annual mid- to long-term currency-neutral targets of 4% to 6% and 6% to 8%, respectively.
Here is Morris' first quarter press release detailing their Q1 results:
Adjusted operating companies income, which reflects the items detailed in the attached Schedule 7, up by 13.1% to $3.5 billion, or by 14.2% excluding currency and acquisitions
Not even including Japan or currency, operating companies' income growth decreased significantly from quarter one to quarter two. You could argue that it is unclear what the trend will be given realities in Europe and Japan. What you cannot say is that momentum increased in the second quarter. Operating income slowed down from Q1 to Q2.
Europe was the reason for the weakness, of course. Hermann:
For the first half of the year, cigarette industry volume in the EU region was down 5.8%. This confirms that the second quarter decline was unusually severe
That was not just a blip. Hermann:
We have always highlighted unemployment levels and trends as key indicators for industry volume. We therefore do not expect a return to the normal underlying decline rate of 2% to 3% in the EU region until the issue is addressed in a meaningful way
So, Hermann, do you expect the slowdown to continue to your overall business this year?
If I take the Japan hurdle out, then organic volume in the first half has been going 3.3%. I mean, I can't expect 3.3% for the full year, I think nobody does, although we are optimistic to achieve our mid- to long-term organic volume growth target of 1% despite the hurdle in Japan. To give you one example of tough comps, if you go to the EEMA region, then the first half volume results compared to declining trends in the first half of 2011, whilst the second half of the year will compare to already an overall growth rate of 2.4% in the second half of 2011 last year in that region.
That is a "yes." Do you really think this stock is going to $100? And do you believe he said "whilst?"
2) All Their Good Dogs Have Fleas
Waldemer noted Russia and Indonesia as having positives. Here an analyst notes that Europe has gotten worse in the last month but guidance has not been downgraded:
David Hayes - Nomura Securities Co. Ltd., Research Division

Two, if I can. Just coming back to this, the guidance not changing. Obviously, as you made the point, the EU was a little bit worse since we saw you in June. The currency obviously got a little bit worse as well. Could you just be a little bit more specific about which markets have got better over the last, I guess, 4 to 6 weeks that leave you confident that you're still in that range?...(Continuation) Is that Russia? I mean, it sounds like the presentation in the release that maybe Russian trends were stepping up a little bit in the last and then I guess your performance there with the investment behind Marlboro. Is that one of the key markets to your point that's kind of got better than you were hoping for over the last couple of months?

Hermann G. Waldemer

Russia, by its sheer size, of course, is the most important market in the EEMA region. But there is also Turkey, there is also Ukraine, there is Kazakhstan, there is North Africa, there is the GCC countries, which are also very prosperous countries with growing population and growing purchasing power. So there are many places in that region. Of course Russia is the most important but there are many others.
OK, so Indonesia and Russia along with Turkey, Ukraine, Kazakhstan, North Africa, and the Gulf Coast Countries - usually defined as Bahrain, Kuwait, Oman, Qatar, Saudi Arabia, UAE and sometimes Y(emen). Ha ha (UAE and sometimes Y). Morris also picked up a lot of share in Japan last year so we will add that to the list.
Indonesia
Indonesia was a bright spot for Morris. Still,
the government, yes, is increasing excise taxes every year.
and
nobody can expect continued share growth in the range of 3 percentage points all the way along. We have said that this is going to slow down a bit.
Russia
What kind of a strength is it when you say "pockets of weakness like Russia exist" and reference "Nielsen declines in Russia" to go along with: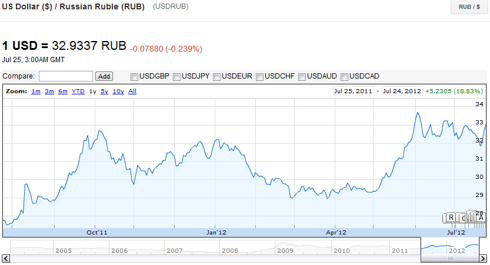 Click to enlarge
Turkey
Yes, our latest estimate is that illicit trade has come down by about 3 percentage points, national average from 20% actually to 17%.
That's progress?
Erik A. Bloomquist - Berenberg Bank, Research Division

And then coming back to the Turkish market, could you update us on the outlook for any tax increases at the end of this year, beginning of next year? Are they thinking about raising the ad valorem again or is that somewhat off the table?

Hermann G. Waldemer

Okay. Remember, when we were here at the first quarter call, there we had had the press statement of the Finance Minister and the Deputy Prime Minister that they will address the excise tax structure. That has happened. The Council of Ministers has authorized specific tax to be implemented to an amount of up to 20% of the minimum excise tax.
Super?
Japan
Morris was not the only company to jump on the Japan void, some new competition joined the market that otherwise may not have moved in. In addition, they have an admitted disadvantage in innovation:
Thilo Wrede - Jefferies & Company, Inc., Research Division

Okay. And then in Japan, at what point do you think the innovation disadvantage that you have relative to JT right now? At what point will that start to fade?

Hermann G. Waldemer

I would say that I just admitted that they have had a real hit with the highly mentholated product that has come out under Mild Seven.
Then there are the taxes they will face:
it is a first step to developing an entire refinancing plan, if you like, for all the funds needed to cope with the cost of the natural disaster of last year. So in that context, the discussions take place. Consumption tax was, of course, the key element in there. Excise tax, I believe, is going to be a normal discussion.
Elsewhere in Asia and the GCC
No other mentions of Ukraine or Kazakhstan on the call, but the Eastern Europe, Middle East & Africa region had revenues increase 6.9% year over year excluding currency, so that is a fair plus. As for the GCC and elsewhere in Asia:
David J. Adelman - Morgan Stanley, Research Division

Okay. And then second question, Hermann. Can you just update us all on the status of the potential excise tax increase in the Philippines and the potential for fairly substantial duty increase potentially in the GCC countries?

Hermann G. Waldemer

Okay. Philippines first. The situation there is that the House of Representatives has passed a bill with pretty substantial disruptive excise increases for 2013...So what I'm telling you here is there is more discussions to come in the third and in the fourth quarter. Then on GCC, while there is a discussion going on, that discussion we have had many years also -- for many years also in the past, it's still an open question. I really don't have an update to that one. We'll see in the remainder of the year.
Watch out that the higher prices from those taxes don't lead to...
3) Taxes, Price Increases, and Weaker Economies Have Created A Huge Illicit Cigarette Market
According to KPMG 10.4% of cigarettes in the EU are from the illegal trade, double digits for the first time on record. We already highlighted the "progress" in Turkey. Around the globe "big hopes" are what Morris has:
Impacting specifically the cigarette industry, there has also been down-trading to the fine cut category and an increase in illicit trade, particularly the so-called illicit whites

...

Rogerio Fujimori - Crédit Suisse AG, Research Division

Hermann, you flagged the problem of illicit trade in Italy. Has the problem of illicit trade in Spain got worse in Q2?

Hermann G. Waldemer

Illicit trade in Spain should be about 10%, 12%. I would assume there, so it's increased -- it's on the increase there as well.

...

We don't see, however, really, an improvement on the illicit product flowing in from Paraguay into Brazil.

...

I have big hopes that illicit trade will come further down in Canada because the province of Ontario has declared that they are essentially copying the measures that the province of Québec had implemented
With Europe falling apart it is hard to imagine the governments there spending a lot of money to protect Morris' bottom line. This could get worse, no?
4) Currency Does Matter
The Independent Investor highlighted seeing triple digits for Morris:
the company suggested the euro would only likely impact the companies earnings per share by less than 5%, and the company continues to show stronger revenue growth than most leading dividend stocks such as Altria (NYSE:MO), AT&T (NYSE:T), and Procter & Gamble (NYSE:PG).
To be clear, no, they did not suggest "the euro would only likely impact the companies earnings per share by less than 5%". Unless our author is referring to the $.25 overall currency impact from PM's June statement. In this earnings release Waldemer said:
Exchange rates, however, continue to be volatile. At prevailing exchange rates, the forecast currency headwind this year is slightly higher than the $0.25 per share that we predicted in June. However, our underlying business is very strong, and this is expected to offset the additional unfavorable currency impact of $0.02 per share.
$.27 is 5.3% of the $5.10 low end of predicted earnings. That would be more than 5%. Or we could do simple subtraction from the press release:
Reported diluted earnings per share of $1.36, up by 0.7%, or by 8.1% excluding currency, versus $1.35 in 2011, as detailed in the attached Schedule 13.
8.1% minus .7% is 7.4%, no?
I don't want to pick on the Independent Investor but his or her article did not mention the word "currency" once and it should have. Hermann Waldemer mentioned the word currency 23 times, and they were all bad. The breakdown:
3 X "unfavorable currency movements"
14 X "excluding currency"
4 X "currency-neutral"
1 X "currency headwind"
1 X "unfavorable currency impact"
Hermann has good reason to want to exclude currency. That's because, as Skyler Greene noted, the dollar is getting stronger.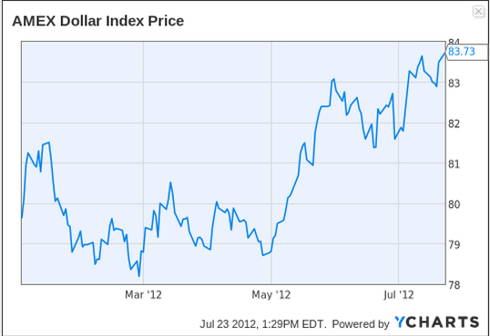 Click to enlarge
This is of course really, really bad for a company based in the United States and selling exclusively overseas. Two weeks ago I emailed Philip Morris and asked them about their "currency hedging strategy." The entirety of their response is posted below:
...

...

...
What kind of plan are we supposed to think they have in place when they told us in June that currency was hurting them more than they had planned, and then tell us a month later that it hurt them even more than that? Is hope a plan?
At the very least it is reasonable to say that they don't know what will happen with currencies and any insurance they may or may not have has not helped.
If you believe someone like George Friedman then there are good geo-political reasons to believe that the strong American currency is not only going to get stronger for years, but Asia will no longer be a region where currency does not hurt Morris.
People like to say that the United States has too much inflation, but in relation to the world we have the opposite. Is there a solution to Europe's debt besides inflation? And don't forget Dr. Pirrong showing us that copycat global Feds make our Fed's efforts to weaken useless. And have you looked at some of the large South American countries' currencies?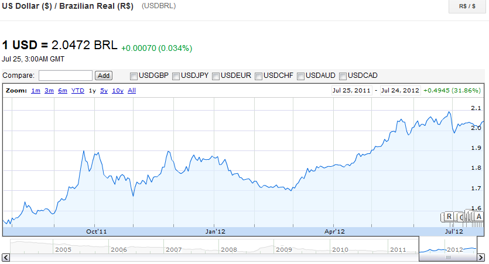 Click to enlarge
This currency problem is really bad for Philip Morris. And it could get worse, no?
5) Just To Be Clear, Things Are Getting Worse, Right?
It seemed a little strange that the PM management insisted on pointing to the first quarter as well as the second to predict the second half of the year in Europe. Isn't the most recent quarter by itself a better indication? Mr. Ferrara calls Mr. Waldemer out on this. See if you are satisfied with his answer:
Christopher Ferrara - BofA Merrill Lynch, Research Division

Hermann, just one last clarification on the EU. Not to beat this thing to death, but it does sound like you're indicating broadly across the segment that I guess the first half volume numbers may be a better indicator of what the go forward looks like than are the Q2 numbers, right? Even though it looks like things have continued to worsen, especially from a macro perspective, and the number was a little worse than you even thought a month ago. So I guess can you, I guess, give a little bit more color on what the inventory/timing piece of the EU is that will cause Q3 and Q4 to get better than Q2? I'm just trying to understand why we'd think that, that first half number is a better indicator than the more recent Q2 number.

Hermann G. Waldemer

Well, I mean, there is many markets in there. And as I said earlier, Germany is just -- I think it's the most flagrant example there. I mean, you had Q2 down by 5.2, whereas year-to-date, it's down by 1.3. And our full-year estimate for the German market is down 1.5. So you have this technical reason in the second quarter where in Q2 2011, you compare to an up of 4.6%. These are comps. Let's not get hung up too much really on quarters. Year-to-date trends are the more reliable indicator. I'm not talking it rosy here. Yes, EU region is not easy, but there is no reason to believe that the EU region is now going to be down 10% for the rest of the year. It's not going to be down 10% for the year, it's going to be down in the range of where the year-to-date is, which is anything around 6.
Let's make a list of worse things you can hear a CFO say than "let's not get hung up too much really on quarters" that will not get said CFO fired. Seriously, name something.
And why can't Europe continue to be just as bad as the second quarter? I guess he would not say that if he was not sure. After all, he's got to come back on next quarter's conference call and face the heat, right? Nope. This was his last one. Hermann's stepping down now. So, yeah. Maybe "let's not get hung up too much really on quarters" could have been "let's not get hung up too much really on quarters since I'm not going to be here, fools. Muah-hahahahaha!"
And then a Goldman analyst trys to corner Mr. Waldemer on a slower outlook:
Judy E. Hong - Goldman Sachs Group Inc., Research Division

Okay. And then just in terms of your guidance, so if you look at first half, your adjusted earnings up 13.3%, excluding currency, even with the hurdle that you faced in second quarter from Japan. It sounds like, just based on your guidance, maybe a little bit of a slowdown in the back half. I'm just wondering if there are any other factors that sort of makes you think that the earnings growth could slow down in the back half. Are you thinking just in terms of Europe potentially a bit more conservative stance? I'm just wondering if there's anything to think about in the back half.

Hermann G. Waldemer

No, I mean, there is nothing on the underlying business trends there. It is simply some -- often a question of comparisons. So it's a bit of comps, but underlying our business is in very good shape. And Europe has, of course, been factored in into our full year guidance
Is that going to be any consolation to headline writers, that the comparisons are tough?
The CFO told us to expect slowness, so guess what? I think we should expect slowness.
6) Check Out This Headline:
Pretty impressive, right? Welcome to the world of plain packaging, an on going conversation around the world according to Waldemer. All that talk of branding...YIKES. Seriously, without branding how long do you expect Philip Morris to stay solvent? 10 minutes? Less?
7) One More Thing
We've been saying to watch out because a lot of consumer non-cyclical stocks have been running a lot. We said that in tough times cyclicals can get hammered but generally non-cyclicals are okay, and that is the reason they have been running this year.
the soap from Unilever (NYSE:UL), Colgate's (NYSE:CL) toothpaste, Coca-Cola's (NYSE:KO) Coca-Cola, Philip Morris' smoke-a-cola, and Cleanwater Paper's (NYSE:CLW) bathroom tissue have steady demand even as Spain flows down the drain.

Sometimes called non-discretionary, non-cyclical companies contrast with the cyclical companies' goods and services that do depend upon the economy. These include Ford's (NYSE:F) cars, Harley's (NYSE:HOG) hogs, Stanley Black & Decker's (NYSE:SWK) tools, Whirlpool's (NYSE:WHR) dishwashers, trips to Disney's (NYSE:DIS) theme parks, and Ralph Lauren's (NYSE:RL) snazzy duds.
However, we got a clue from Hermann and we should take it to heart as we explore other stocks:
This unfavorable development in the cigarette industry is not a unique phenomenon as a wide range of consumer products have been affected by the economic slowdown.
If cigarettes can slow down, so can Coke, Dial, Crest, you name it.
If you want something that is safer and pays a dividend look to utilities like Empire District (NYSE:EDE), Entergy (NYSE:ETR), Exelon (NYSE:EXC), Plains Energy (NYSE:GXP), Westar (NYSE:WR), American Electric Power (NYSE:AEP), AES (NYSE:AES), Duke (NYSE:DUK), Consolidated Edison (NYSE:ED), Public Services Enterprise (NYSE:PEG), Southern Company (NYSE:SO), or TransAlta (NYSE:TAC).
Don't "Get Hung Up" On Quarters, Currency, Taxes, Japan, Europe, Illicit Trade, Economics, Branding, Real Life
So what's left to say about Philip Morris? This: Not including this quarter or the foreseeable ones, and not including currency, taxes, Europe, Japan, illicit trade, and branding, things are looking pretty okay.
Sell Philip Morris already. Just sell it. Sell it all, sell it right now. Sell it before it drops in to the $70s, it will never see $100. Why on earth would it? Sell Philip Morris.
Disclosure: I have no positions in any stocks mentioned, and no plans to initiate any positions within the next 72 hours.