AT&T, Inc. (NYSE:T) reported earnings of 66 cents per share on Tuesday, three cents above analyst estimates and six cents more than the same period a year ago. AT&T achieved record profitability in its wireless arm helped by slower smart phone sales. Phone upgrades were at record lows in the quarter, helped by a policy started last March to make customers wait 20 months before they are eligible for a subsidized upgrade. Slower sales of heavily subsidized phones help boost profitability, as AT&T subsidizes smartphones by hundreds of dollars per phone. Revenue for the quarter, however, came up $100 million short of analyst estimates. The stock was down 2.7% on the mixed results, however, the move lower was likely exaggerated by the weak market today and over the past few days.
AT&T is one of the most shareholder friendly companies; after Tuesday's move down the stock is yielding 5%, and so far this year they have repurchased $4.6 billion worth of stock. In the first half of 2012 AT&T has returned almost $10 billion to shareholders. This compares to Verizon Communications Inc. (NYSE:VZ) currently yielding 4.5%. AT&T is trading at about 13.5 times forward earnings, has a PEG ratio of 1.5, and has EV/EBITDA ratio of 7.7.
Smartphones now account for 62% of the postpaid base, and wireless data revenues reached $6.4 billion in the quarter, up from $4.4 billion a year ago. Wireless EBITDA service margins reached a record 45%, and contributed $5 billion in operating income, up 19% year-over-year. Enterprise revenue increased slightly for the first time in 4 years, however, there was weakness in small business and government sales. While positive, it will take improved economic growth to generate significant enterprise growth. U-verse TV subscribers reached 4.1 million in the quarter, with U-verse revenue growing 44% year-over-year.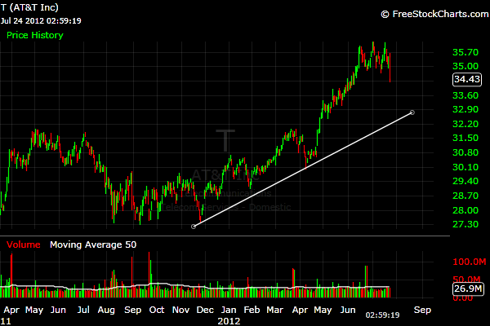 Click to enlarge
AT&T has been in a strong uptrend since late last November, and in late April the stock started an accelerated uptrend. This short term uptrend appears to be reversing, and with a weak market should carry the stock down to $32 per share. At this point the company would be yielding 5.5%, and would be an attractive place to accumulate shares.
As wireless companies begin to focus on expanding margins, and increasing revenues from high power users I believe they will be a good investment for shareholders. As bond yields continue to push towards record lows, with the 10 year down to 1.4%, I believe it will make reliable dividend payers like AT&T even more desirable to shareholders.
Data sourced from: Company filings, and Yahoo!Finance. Chart from: Freestockcharts.com
Disclosure: I have no positions in any stocks mentioned, and no plans to initiate any positions within the next 72 hours.