Oilfield equipment maker FMC Technologies (NYSE:FTI) has been on a roll as of late, at least when it comes to its financial performance. The company added to its momentum with first quarter 2008 earnings that were up almost 40% from the year-earlier period. In addition, management bumped up slightly its full-year 2008 earnings guidance. See conference call transcript here.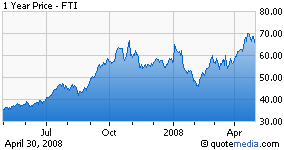 These strong results come on top of a string of announced contract wins from several heavyweight customers, ostensibly solidifying FMC's market leadership position on the ocean floor. It also comes as the kinds of technically challenging offshore projects in which the company specializes continue to grow both in terms of contribution to global oil and gas production as well as overall spend by operators.
However, our data also suggest it has not been entirely smooth sailing for the headline-grabbing supplier, as steep growth appears to have contributed to a decline in the company's ratings in EnergyPoint's latest customer satisfaction survey. The company rated 25th out of 32 vendors in terms of total satisfaction in our 2007 Drilling / Wellsite Equipment & Materials Customer Satisfaction Survey, down from 9th out of 30 vendors just two years earlier. The largest ratings declines for the company were in the areas of i) performance / reliability, ii) engineering / design, iii) availability / delivery, and iv) personnel.
In general, FMC's rank appeared hamstrung less by ratings for its bread-and-butter wellheads and more by the marks it received for equipment and systems used in connecting and controlling sub-sea wellheads and production flows.
It should be noted that FMC is not alone in recording lower ratings with our survey participants. In a sign of the times, Aker Solutions, Technip-Coflexip, Oil States International (NYSE:OIS) and Vetco Gray (a unit of GE Oil & Gas) all rated at or below FMC's level in the 2007 survey. However, none experienced a decline from 2005 of the magnitude of FMC. Furthermore, two of FMC's primary competitors, Dril-Quip (NYSE:DRQ) and Cameron International (NYSE:CAM), saw their overall rankings rise to 10th and 17th, respectively.
Thus, while the drop in FMC's ratings might in the end prove to be transitory, because the company is involved in some of the industry's most high-profile projects and applications, we'll be watching closely to see if it can regain its prior form.
Disclosure: none