Coinstar Share Valuation and Target Price: Eating off Netflix and Spare Change
Hello readers, today I will review some of the most relevant facts about Coinstar (NASDAQ:CSTR) before doing a DCF Valuation and giving out my target price for this company. Coinstar also happens to report today, July 26th.
Meet the Brands
Coinstar has two core brands, Redbox DVD and video game rentals and Coinstar coin counting.
Redbox
There were over 35,400 Redbox kiosks at the end of 2011 in 29,300 locations, where consumers can rent or purchase movies and video games; 5,200 were installed that year.
The Redbox kiosks are installed primarily at leading grocery stores, mass retailers, drug stores, restaurants and convenience stores including Walgreens (WAG), Walmart (NYSE:WMT) and McDonald's (NYSE:MCD).
The following graph, made with information from Coinstar's 10-k illustrates the vendor relations as a percentage of its revenues for both Redbox and Coin business: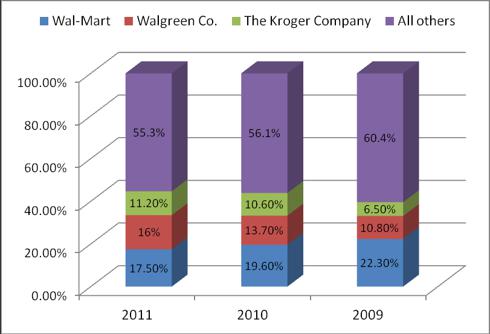 The touch-screen kiosk occupy an area of less than ten square feet, where users select their titles, swipe a credit or debit card and receive their movies or video games.
Coinstar launched video game rentals at its kiosks nationwide in June 2011 and successfully implemented its first DVD price increase in 8 years.
Coinstar generates revenues with the daily rental fee at a Redbox kiosk, which is a flat fee plus tax for one daily rental; the customer is charged at the same daily rental fee for each additional day. Coinstar pays retailers a percentage of its revenues.
From its 10-k:
Our content library consists of movies and video games available for rent or purchase. We obtain our movie and video game content through revenue sharing agreements and license agreements with studios and game publishers, as well as through distributors and other suppliers. Our goal is to achieve satisfactory availability rates to meet consumer demand while also maximizing our margins.
Coinstar goes on to detail its Coin Business:
Coin
Within our Coin segment, we own and operate approximately 20,200 coin-counting kiosks (approximately 17,200 of which offer a variety of stored value products to consumers) in 19,900 locations, where consumers feed loose change into the kiosks, which count the change and then dispense vouchers or, in some cases, issue stored value products, at the consumer's election.

Our Coin kiosks are available across the U.S., where they provide a convenient and trouble-free service to retailers such as Kroger and Walmart, and in Canada, Puerto Rico, Ireland and the United Kingdom. We are the only multi-national, fully automated network of self-service coin-counting kiosks and are the leader in the U.S. market.

We generate revenue through transaction fees from our consumers and product partners. Each voucher lists the dollar value of coins counted, less our transaction fee. When consumers elect to have a stored value product issued, the transaction fee normally charged to the consumer is charged instead to the card issuers for the coin-counting services.

We estimate that, at any one time, there is $7.0 billion to $10.0 billion worth of coin sitting idle in households in the U.S. In 2011, consumers processed more than $3.0 billion worth of coin through our Coin kiosks. Since inception, our Coin kiosks have counted and processed more than 533.1 billion coins worth more than $30.3 billion in more than 813.7 million self-service coin-counting transactions.
For those of you counting, that comes out to around $37.23 per transaction.
Its Coin business re-established a partnership with Safeway, resulting in 1,300 new installations and bringing our network to approximately 20,200 Coinstar kiosks. Where is the money in coin-counting you ask? In the processing fee, this is currently at 8.9%.
Coinstar is going into New Ventures
Wasting no time and knowing stakeholders expect the company to keep growing; Coinstar is testing the waters with its new Ventures:
Our New Ventures segment consists primarily of our coffee, refurbished electronics and photo self-service concepts. We generate revenue primarily through fees charged for products and services offered to consumers in select test markets where we are testing business concepts.
Seasonality
Coinstar has had its highest revenue in the second part of the year for both Redbox and Coin.
Redbox because the summer months have historically been high rental months (vacation time for many of its customers) followed by lower revenue in September and October, due partly to the beginning of the school year.
Coin increases its revenues during the second part of the year due to increased retailer foot traffic and the consumer's desire for disposable income in the summer months.
2012 Strategic Initiatives
On February 3, 2012, Redbox entered into a Limited Liability Company Agreement with Verizon Ventures to form a joint venture for the primary purpose of developing, launching, marketing and operating a nationwide "over-the-top" video distribution service providing consumers with access to video programming content, including linear content, delivered via broadband networks to video-enabled viewing devices and offering rental of physical DVD's and Blu-ray Discs® from DVD rental kiosks.
It seems as if Coinstar is just getting started, as the company continues to state its expansion plans:
We also agreed to purchase the assets of the entertainment line of business of NCR, a global technology company. This enables us to fill in certain pockets of the country where Redbox is underrepresented today. The deal includes a five-year arrangement with the opportunity to work with NCR on other strategic self-service concepts and initiatives.
The company announced on June 26th that it has completed its acquisition and the expected impact of the asset purchase on 2012's EPS will be a decrease of between $0.40 and $0.50 EPS per share vs. 2011.
Geographical expansion
We are expanding in Canada, a natural extension of both our Redbox and Coin businesses. We also continue to invest in innovative self-service concepts that will position us to extend our leadership in automated retail. We expect to launch one to two of these new concepts in 2012.
Counting the joint venture with Verizon (NYSE:VZ) as one of these concepts, the other one is its agreement with Seattle's Best Coffee, part of Starbucks (NASDAQ:SBUX), to roll out CSTR's Rubi coffee kiosk in the grocery, drug and mass merchant retail channels featuring Seattle's Best Coffee beverages. This last agreement was announced just a month ago.
The former might be big for Coinstar's Redbox business, as video streaming combined with its regular video rental business will continue to eat away at Netflix's (NASDAQ:NFLX) market share.
Redbox became the most popular source for physical movie rentals in the United States, ending the year with a 37% unit share, according to Coinstar's 10-k.
Revenue
This graph I made using Coinstar's financial information from its 10-k shows us more clearly where the money's coming from. Almost 85% of the revenue comes from Redbox, the other 15% is almost all from its Coin business. The margins for the Coin business are greater, having a 24.5% operating margin, compared to 10.9% of the Redbox business.
Of course the New Ventures division lost money in 2011, mostly due to Research and Development costs coupled with Administrative costs. We will see how the business mix changes during 2012 and most importantly, 2013 and forward.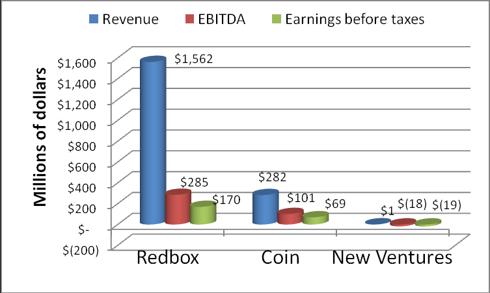 Share repurchases
In July 2011, Coinstar's Board of Directors granted authorization to repurchase up to $250 million of its common stock, in addition to its previous $12.5 million left, it is allowed to repurchase $264.4 million of its common stock as of December 31, 2011.
The company repurchased more than a million shares in 2010 at an average price of $45.94 and more than 1.37 million shares at an average price of $46.10. This adds to more than $112.5 million in share repurchases in two years. It looks like Coinstar takes good care of its stock price.
License Agreements
Coinstar entered into certain license agreements to obtain content for movie and video game rentals.
The following graph represents the breakdown of the agreements by company, the total is for $1.403 billion dollars. This is a huge investment in Redbox, representing around 76% of 2011's revenues.
This is distributed by years, the commitments being around $495 million for 2012, $479 million for 2013, $399 million for 2014 and $30 million for 2015.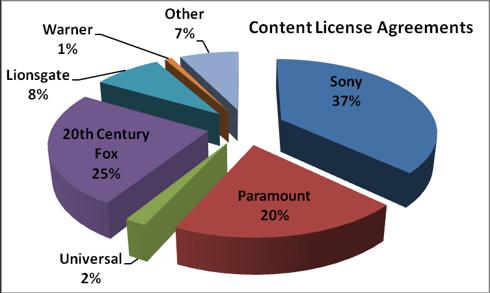 Earnings Growth
Analysts that follow this company expect it to grow its earnings at an average annual rate of 18.42%.
For 2012, the expected earnings increase is 32.28% over the last year.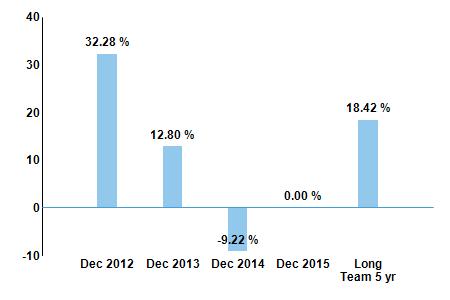 Expectations Treadmill
Coinstar has beaten estimates for the past 7 quarters, and the company is expecting its fourth quarter to be the strongest in both revenues and EPS for 2012. So it seems this quarter may not be the hottest for Coinstar, but not as weak as March's report usually is.
In the next graph, we can see how the company has performed relative to earnings expectations for the last two years: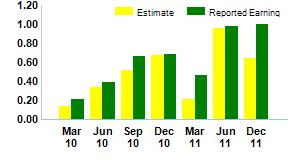 On March 26th, Coinstar's Consensus EPS forecast was $1.42, and after it reported $1.39 EPS, it was practically a non-event the next day, with shares actually going up $63.54 from $63.50's close the previous day.
Coinstar reports earnings this Thursday, July 26th. Coinstar is expected to report $1.17 EPS. This will most probably be beaten easily. I expect small decrease relative to last quarter but a lot better than consensus expectations, so my trade recommendations will be aimed at capturing the upside.
Return on equity, assets, capital structure and liquidity
Company

ROE (last 3 year average)

ROA (last 3 year average)

Liquidity: Current

Ratio and Acid-Test

Capital Structure:

Debt/Assets

Long-Term

Debt/

Assets

CSTR

14.7%

5.1%

1.36 for both

63.8%

14%
Coinstar's return on Equity is pretty decent; its Return on Assets is low, in fact the exact same as Amazon has (NASDAQ:AMZN) and almost the same in the ROE department.
The Capital Structure is the only thing that could scare me about this company, as the liabilities the company owes are almost too heavy a burden to bear, but since most of it is short-term and the company keeps rolling its debt over, it will be just fine, as its liquidity is enough to cover any cash necessities it might have.
Margins (4 year average)
| | | | | |
| --- | --- | --- | --- | --- |
| Company | Gross Margin | Cost of Sales/Sales | Operating Costs | Net Margin |
| CSTR | 30.5% | 69.5% | 20.7% | 4.0% |
Coinstar keeps improving its margins, as it gets better at its core businesses. It also eliminated a competitor by way of buy-out. Pretty aggressive expansive strategy, but I like it, and its margins for 2011 were 30.5% and 5.6%, gross and net, respectively.
Piotroski's F_Score & Economic Profit
| | | | | |
| --- | --- | --- | --- | --- |
| Piotroski's F_Score | Price/Book | EV/Sales Ratio | ROIC | WACC |
| 8 | 3.22 | 1.08 | 20.2% | 10% |
Economic Profit
Score: 8 out of 9
Amazing score by Coinstar. I must admit when I first saw it, I had to double-check all the calculations, but there it is. If you like Piotroski's method for picking strong companies, well, this is the best out of the few I have valued that have scored above 7.
Its only weak point was the increased leverage to use it in its geographic and product expansion efforts.
Investors are currently paying $1.08 for every dollar Coinstar sells, so there is a fair valuation of its sales with plenty of room up.
Return on Invested Capital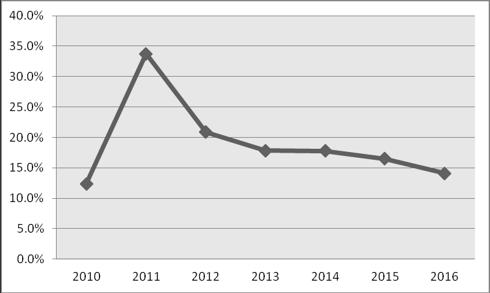 Projecting the "Business as Usual" scenario, these are the ROIC results that I expect Coinstar to have for the near future, its Return on Invested Capital is expected to be between 4% to 11% above its Cost of Capital. Great news for Coinstar investors, as the company returns to more normalized ROIC, it will still be above its Cost of Capital if this scenario plays out.
DCF Valuation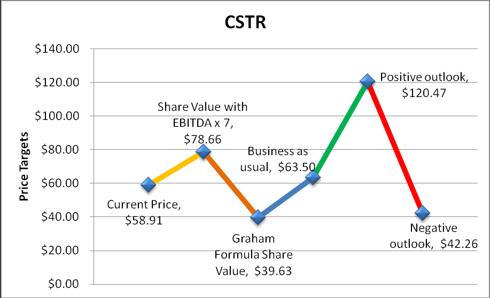 As with all other valuations, we have 3 basic scenarios.
The "Business as usual" scenario: Coinstar's sales grow 25% for 2012, 20% in 2013 and 15% from 2014 to 2016, 10% to perpetuity.
Its gross margins stay at 2011's rate, which is 30.5%, as they have been very steady for the past 4 years, moving between 30.3% and 30.7% in 2009. The gross profit margin drops to 30% to perpetuity as competition increases. Investing cash flows represent 11% of revenues, as the company keeps investing to continue its business growing. Financing cash flows continue to impact Coinstar negatively by $135 million each year. It was negative by $72 million in 2011. I give this scenario a 50% chance of playing out.
The "Optimistic outlook" scenario: Coinstar's expansion continues successfully and its sales grow at 25% each year until 2015, when they drop to 23% and are maintained at 12% to perpetuity. The gross profit margin is kept at 30.7%, the 2009 high, and drops to 30.5% to perpetuity.
SG&A expenses as a percent of revenue drops to between 18% and 19%, and goes up to 20% to perpetuity. It was 19.1% for 2011. Investing cash flows are now 19% of revenues, as the company will need to invest a lot more in this scenario to reach the sale increase goals. Financing cash flows continue to impact Coinstar negatively by $135 million each year.
I give this scenario a 25% chance of playing out.
The "Negative outlook" scenario: Coinstar fails miserably at expanding and grows only a meager 13% for 2012 and 2013, this slow growth rate stays at 10% for 2014 until 2016, and only grows 8% to perpetuity.
Its gross margins stay at the lowest levels seen in the past 4 years, 30.3% from 2012 to perpetuity. Its SG&A expense goes up to 21% and stays there to perpetuity, when it drops to 20% of revenue.
The company keeps investing 9% of its revenue in a failed attempt to keep expanding. Financing cash flows continue to impact Coinstar negatively by $135 million each year. I give this scenario a 25% chance of playing out.
My target price for December is the weighted average of the 3 scenarios, $72.43 by December 2012. This represents a 23% upside potential if things play out how I supposed they will.
Trade Ideas
As you have seen, the biggest hurdle for Coinstar to overcome might be its debt, but clearing it should not be a problem with its expansion program up and running.
It has gotten leaner each year, getting rid of its Entertainment unit in 2009 for a net $46.4 million after subtracting all liabilities, in 2010 it sold its Electronic Payment Business for a net $11.3 million and last year it sold its Money Transfer Business for a net $38.34 million. The Board is not playing around, when it smells money, it buys, when a unit is better off being sold, it gets sold.
The trade ideas, as mentioned earlier, will be aimed at catching the upside of this growth stock, along with a more conservative trade for investors looking to initiate a long stock position.
The first trade idea is an aggressive trade, very speculative but the payoff potential is great.
For this trade, you will buy to open 1 CSTR Aug call, 60 strike price, and to offset the volatility premium, you sell to open the 65 strike Aug call. This is all done for a debit of $1.92 and a maximum payoff of $3.08, the rest of the $5 spread on August 17th, August options expiration day.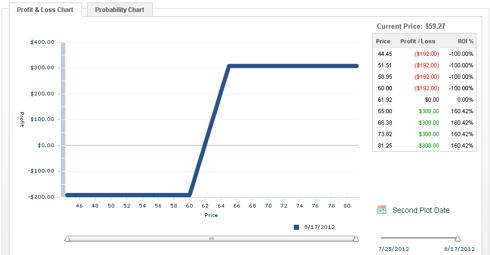 This trade is basically saying if Coinstar trades above $61.92 by August 17th, you will start earning money, 160% of ROI sounds great for a 10% move, but is highly speculative and risky.
For investors who wish to establish a stock position, use the put-selling strategy to your advantage. For conservative investors, a 55 strike price to get assigned the shares by August might be just fine, pick your own strike if you don´t like it.
The trade here is to sell to open CSTR 55 strike price puts at 2.45 each. This will yield a return of 4.45% if you do not get assigned and requires you to hold $5,255 in cash in your account until the trade expires.
Here's how the trade will look like at expiration: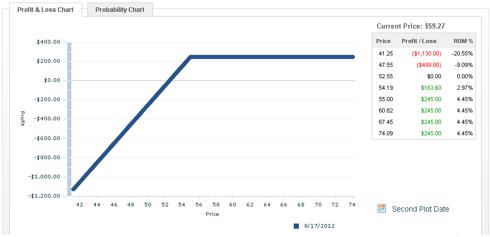 If the stock does not crash and burn below $52.55, chances are you will not get assigned and can keep on doing this until you get the stock assigned, playing with as close as in-the-money as you can get while getting a good night's sleep.
Final thoughts
Analysts have a 12-month price target range from $59 to $115, with $83.5 being the consensus. Standard & Poor's has given Coinstar a $71.20 Fair Value.
It is heavily shorted, at 31% of its outstanding shares, taking 7.6 days of average daily volume to cover, keep this in mind if you plan to join the short side on this stock, as any positive surprise will likely ignite a short-covering rally.
Share your comments and thoughts, my next valuation will be of Sodastream (NASDAQ:SODA) because of a special request by Josh Krause, then I will see which company to pick, you can post your suggestions below.
Disclosure: I have no positions in any stocks mentioned, but may initiate a long position in CSTR over the next 72 hours.
Additional disclosure: Long TEF, short SPY call spreads.