Royal Bank of Canada (NYSE:RY) has more than enough capital to deal with an expected writedown on exposure to monoline insurers and collateralized debt obligations, says UBS Investment Research analyst Peter Rozenberg. He calculates that RBC could take a C$4.8-billion pre-tax write-down and still have a solid 8.5% Tier 1 capital ratio.
That's a positive view given recent speculation from some analysts who have forecast significant peril to Canada's biggest bank.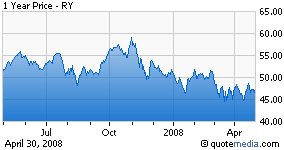 Mr. Rozenberg has a "buy" rating on RBC's stock, and a C$55.00 target price. He was also impressed by the bank's domestic retail banking platform as presented by management at an investor day held on Tuesday.
The UBS analyst said:
RBC is well positioned due to market leadership and a focus on customer convenience and value added service.
Strong distribution, integrated products, and good brand management are leading to solid loan growth, market share gains, and higher net income. Provisions for credit losses are on the rise, but are not likely to become a problem just yet, he added.