Shares of AudioCodes (NASDAQ:AUDC), an Israeli provider of Voice over IP ([VOIP] technology, are surging on the heels of a strong earnings report. The company reported record earnings, an indicated strong growth for the remainder of this year as well as for 2009.
This small VOIP company has long been overlooked by the financial community, but the fundamentals make this an interesting play for long-term investors.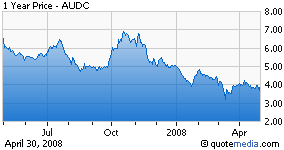 The company has a PEG of less than 0.6, and has over $137 million in cash and cash equivalents. AudioCodes has a market-cap of $177, which means that it's trading at a discount to revenues as well. Throw in a 4,000,000 share buyback, and this could be a sleeper.
Investors should be aware of the fact that for the last three and a half years, shares in AudioCodes have gone in just one direction - straight down. Having said that, Wednesday's report just might be the jump-start needed to break the downward spiral, and be the necessary catalyst to help propel shares going forward.
Disclosure: The author's fund has no position in AUDC, and his fund has no position in any other stock mentioned as of April 30, 2008.