Having worked more than 15 years in the telecommunications industry, it is still amazing to me that Level 3 Communications (NASDAQ:LVLT) remains a going concern after all the bankruptcies in the industry. The company did make a wise move to merge with Global Crossings back in October last year to hopefully realize some synergies and reduce competition.
The provider of global communications services to enterprises and carrier customers reported an unsurprising $0.29 loss for Q2 2012 compared to expectations of a loss of $0.27. Not exactly a major miss, but for a company with perpetual losses every penny helps. The stock was leveled 9.7% due to the larger losses.
The good news is that the company lost less money than it did in the previous quarter as that loss was $0.37. Some progress, at the very least, though the company appears to never miss an opportunity to lose money.
Even more amazing is that the company has a market cap of $4B and an enterprise value over $12B.
Q2 2012 Earnings Highlights
Total Revenue of $1.586 billion
Core Network Services revenue increased 0.7 percent sequentially on a constant currency basis
Adjusted EBITDA grew to $353 million, up 8 percent sequentially and 12 percent year over year
Net loss of $0.29 per share for the second quarter of 2012, compared to a net loss of $0.37 per share for the first quarter of 2012, excluding losses on debt extinguishment in the first quarter 2012
Company remains on track to achieve $300 million of projected total run-rate Adjusted EBITDA synergies and $40 million of capital expense synergies from the Global Crossing acquisition
Company reaffirms 2012 Adjusted EBITDA growth rate of 20 to 25 percent
Free Cash Flow
This company probably reports more financial metrics to distract investors from the continual losses than any other public company. It used to be that EBITDA was the go to number as telecom companies wanted to point investors towards what the company could make if it didn't have depreciation costs or massive debt with outrageous interest payments. The focus has recently shifted to adjusted EBITDA to hide a few more charges.
Now the company throws out both Unlevered Cash Flow and Free Cash Flow. All fine metrics, but it probably shouldn't be focusing investors on all three numbers. After a decade of losses the company needs to focus on one number only and that's free cash flow. Of which, the company has lost $200M so far this year though the Q2 2012 number actually managed to be positive by $3M. Ironically this number was below the $9M reported in Q2 2011. Not exactly progress.
The main culprit of positive free cash flow remains the large amount of capital expenditures. The Q2 2012 number was $180M or basically equivalent to the $183M in operating cash flow.
The below chart highlights the problems with free cash flow going back 10 years. The company has a propensity to report a positive quarter once in a while, but the trailing 12 months always return to the negative territory rather quickly.
Chart - Level 3 Communications 10 Year Free Cash Flow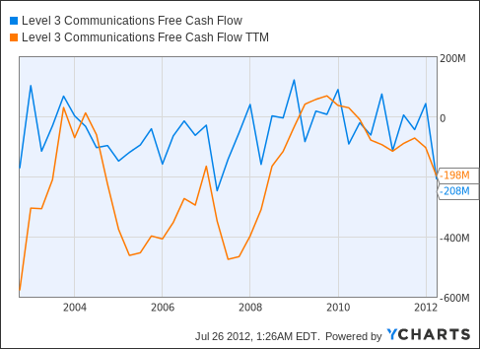 LVLT Free Cash Flow data by YCharts
Capital Spending
The plan has always been that the company and the sector would spend billions to build the next generation network and would recoup the costs over the next decade. Well only one major problem, a telecom network isn't like a railroad or pipeline. Once built it has to be constantly updated in order to stay competitive as opposed to just regular maintenance.
The key to a rebound in this sector will be when capital expenditures greatly undercut depreciation expenses signaling that competition is to the point that the company can maintain services and customers without massive capital expenditures.
For Q2 2012, the company had depreciation expenses of $191M and capital expenditures of $180M. Basically the company has to replace and upgrade networks that have become obsolete. Of course, the depreciated equipment may or may not still be generating revenue, but the ultimate key signal is that the operating cash flow matches the capital spending. The company just can't make enough margin to really justify the continued spending. That doesn't stop them though.
Interest Expenses
Other than capital expenditures, interest expenses are the other major expense category that telecom providers attempt to hide when using adjusted EBITDA. Not only are these expenses real, but they will ultimately crush companies.
With the recent capital markets transaction for $300M, the company now has net debt of $7.76B. The company does have $1B in cash to survive in the near term, though the 8.875% it has to pay on the recently issued Senior Notes will crush it at some point.
Level 3 expects GAAP interest expenses of $745M in 2012. That amounts to more than 10% of the expected $6B in revenue. This makes it almost impossible for a low margin business to become significantly profitable.
Valuation
Officially analysts project that the company will make $0.47 in 2013. Even if the company makes what appears to be an impossible profit, the stock trades for 39x that estimate already.
With a lot of growth stocks trading at considerably lower earnings ratios, it doesn't make much sense to be invested in this stock.
Conclusion
Not sure what justification exists for owning a stock that continuously loses money. Not to mention that if a miracle happens and the company hits estimates for 2013 that the stock still trades at an extraordinarily high multiple.
The company is always worth watching as the merger with Global Crossing continues to help reduce competition in the sector. If it can ever increase free cash flow, investors might have a reason to invest. For now, the stock at the closing price of $18.44 on Wednesday is just untouchable unless you want to bet against it.
Disclosure: I have no positions in any stocks mentioned, and no plans to initiate any positions within the next 72 hours.
Additional disclosure: Please consult a financial advisor before making any investment decisions.