I took some heat from my early June call advocating buying unloved Seagate Technology (STX) when it was trading at $23 a share. There were myriad comments on the article around the company being a "value trap". I believe the comments were misplaced. Based on competitor's Western Digital's (WDC) recent earnings and guidance, it appears being long STX will turn out to be great call and the stock should sizzle into its earnings report next week.
Highlights from Western Digital's comments and earnings report:
The company's CEO upped guidance to $10 in earnings in FY2013, way above consensus of $6.39 (No , this isn't a misprint).
The company is planning for unit growth in hard drive demand of 5% despite a challenging world economy.
Revenue for the quarter came in at $4.8B, easily beating estimates of $4.25B.
Earnings came in at $3.35 a share, shattering expectations for $2.47 a share.
4 reasons STX still has substantial potential upside from current levels:
Analysts were already expecting 18% growth in sales for the company in FY2013 (which started in July). Based on WDC's guidance, I think these sales expectations will be revised up.
Even though Seagate has moved up more than 10% since my article ran in June, it is still dirt cheap at under 3.5 times forward earnings.
The company has already easily beat earnings estimates each of the last four quarters. Look for the fifth straight beat when the company reports earnings Monday.
The stock looks like it has put in a short term bottom, is on a nice uptrend and is solidly above its 200 day moving average (see chart).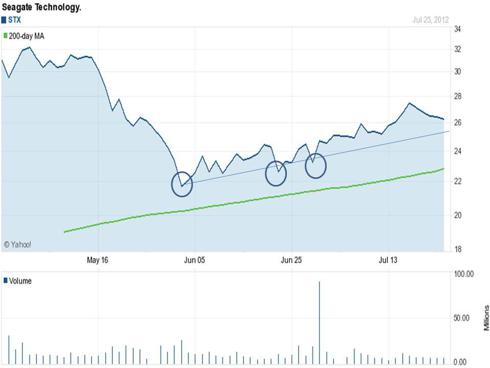 Click to enlarge
(Click to enlarge)
Disclosure: I am long STX.