Volterra Semiconductor (NASDAQ:VLTR) owns the leading power technology for integrated semiconductor chips sets that regulate, deliver, transform and monitor the power consumed by semiconductors. Management claims VLTR has no competition in this space as "no one has a complete integrated solution like we have."
These high performance power solutions maximize performance while minimizing size are used in computing, storage, networking and consumer markets.
VLTR's clients include a who's who of technology stocks: Cisco Systems (NASDAQ:CSCO), Hewlett-Packard (NYSE:HPQ), Ericsson, IBM (NYSE:IBM), NVIDIA (NASDAQ:NVDA), NEC (NIPNY), Hitachi (HIT), and Juniper (NYSE:JNPR), with the possibility of a few major new names, (possibly Sony (NYSE:SNE)?) to be added to the roster in the months ahead.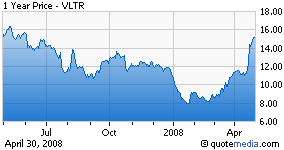 Volterra recently announced stellar first quarter results, and The Correct Call believes bigger profits for the company and investors are on the way. The company heads into its second quarter with a strong backlog to fill and expects a "surge" in demand during the next 90 days.
VLTR is ramping up production for its graphic card and notebook businesses as it won designs for high volume performance graphic cards for NVIDIA and Advanced Micro Devices (NYSE:AMD) which are already shipping. Investors can expect news related to new customers as Volterra has also won several graphic chip designs that are expected to hit market in the late spring and early summer.
Adding to VLTR's second quarter surge are preorders for Intel's (NASDAQ:INTC) new Montevia platform. Montevia is scheduled for release June 3-7 at Computex Taipei. We believe Montevia could be BIG as it will bring HD to meet "mobile users insatiable appetite appetite for and want for even more mobility, connectivity and a full internet experience on their smaller devices." Montevia will satisfy that hunger.
VLTR says this launch should double its notebook revenues and help them grow its market share. In addition to expanding its market share in notebooks and graphic cards, VLTR's server storage business continues to be robust with IBM and HP, and is growing with Sun (JAVA). Intel's launch of its Thurley platform in late 2008 or early 2009 should help VLTR continue its growth well into 2009 and 2010.
Obviously analysts agree as ALL of them have raised their estimates for this quarter, next quarter, the remainder of the year and for all of 2009.
The Correct Call sees many other reasons to expect VLTR's share price to be much higher in the next 3-to-6 months and beyond:
VLTR has ZERO debt and $50 million dollars on hand giving the company financial flexibility.
Management's personal wealth is tied into VLTR's price performance as they own nearly 1 in every 4 shares.
12% of the float is sold short. It would take 8 ½ days of average volume to buy back all of the short shares.
Trading at a forward P/E of roughly 17, which is a little more than half of VLTR's year over year growth rate of 31%.
VLTR is increasing shareholder value with its $10 million share buyback of which $7.6 remains after VLTR purchased $2.4 in Q1.
As you can see, Volterra's story is a good one. We expect shareholders to be able to tell a similar tale, if not better, in the months ahead.
Disclosure: long