Recently, I looked at Qualcomm's (NASDAQ:QCOM) 2008 fiscal second quarter earnings results, and I also talked about the various mobile chipset opportunities that Qualcomm was positioned to exploit. Let us first look at how Qualcomm seeks to address some of these market areas.
Qualcomm's 3G baseband chipset strategy is very comprehensive. The company is targeting low-end phones in emerging markets with cheap single-chip solutions. It expects QSC6010, which is driving CDMA growth in India, to be strong moving forward. Additionally, the company has invested heavily on its QSC6240 single-chip UMTS solution. With this low-cost product offering, the San Diego-based Qualcomm is hoping to drive the transition from GSM to WCDMA, especially in the high-volume markets.
Complementing these low-end 6000 series chips are the 7000 series of convergence platform chipsets. These chipsets combine the baseband functionality with an on-chip ARM-based processor to enable multiple smart-phones in mature markets. Additionally, the integration of the application processor allows Qualcomm to grab more of the handset ASP.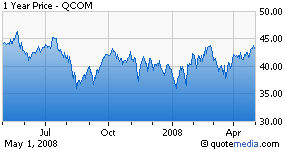 By addressing both the baseband and application processor markets, Qualcomm provides the most complete and powerful product portfolio among mobile silicon vendors. Besides, it is evident that Qualcomm is the only player to address all market segments – low, middle and high-end – efficiently.
Other players compete with Qualcomm in a subset of these segments but no one has either the technical acumen or the deep-pockets to make a difference across the board. They also have their deficiencies:
Marvell (NASDAQ:MRVL), for example, focuses on low-cost, high volume chips but is currently behind in testing and development does not have a critical mass of design wins and also lacks a full-portfolio of connectivity solutions.
InterDigital (NASDAQ:IDCC) has set its sights only on the high-end smart-phone segment fully understanding that performance differentiation is the key to its success.
Texas Instruments [TI](NYSE:TXN) lacks an in-house 3G roadmap that is detrimental to its dominating market share.
If you are interested in understanding the competitive landscape in the chipset vendor space, I will direct you to my detailed valuation series on TI, InterDigital, Marvell and Broadcom (BRCM) that are available in my blog. I have also covered other vendors such as STMicroelectronics (NYSE:STM)- NXP Semiconductors, Infineon (IFX) and Icera to present a fairly complete picture of the chipset vendor space.
In summary, Qualcomm has the right ammunition to sustain and grow in the mobile phone and the data-card markets. Its business model has allowed it to develop a broad portfolio of solutions that dwarfs competition. As 3G grows, Qualcomm will grow with it, not just from this product mix, but from the IP that forms the core of these technologies, as well.
Disclosure: The author was long Qualcomm at the time of writing.