I admit to being somewhat annoyed by dividend stock articles touting the supremacy of dividend stock investing. It kind of reminds me of homeowners back in 2006 saying that "housing prices have never fallen." Are dividend stocks that much better?
Investors have to understand that when a certain investing strategy becomes popular, then the likelihood of that strategy providing market beating returns in the future falls substantially.
Research that back-tests dividend paying stocks are inherently flawed too. One article I saw on this site back-tested 40 dividend champions going back 30 years, illustrating how much better their performance was versus the S&P 500. Sadly, the comment section was a pile on of followers and group thinkers, basking in the glory of their superior dividend stock investing strategy.
The flaw of course is survivorship bias, as well as actually knowing which stocks will turn out to be dividend champions. Dividend champions are defined as stocks increasing their dividend for 25 years in a row. So going back 30 years in the study of these stocks is quite ridiculous! We just don't know today which stocks are going to be the next dividend champions. Or if you do, please tell me so that I can buy them!
My point isn't to bash dividend investing. In fact, almost 2/3s of my stocks are dividend paying equities, and I think the strategy is quite a good one. But what is surprising today is that in this risk on, risk off world, some of these stocks are performing quite well lately, seemingly too well.
On the other end of the spectrum, cyclical stocks have been thrown out with the bathwater this year. These names are trading at exceedingly cheap valuation levels.
Dividend Stock Basket
I pulled a list of dividend stocks out of the SPDR dividend ETF (NYSEARCA:SDY), selecting ten stocks that made sense like AT&T (NYSE:T), Johnson & Johnson (NYSE:JNJ), ConEd (NYSE:ED). Food, healthcare, utilities, the defensive names. Then I looked at the average annual Price/Earnings (P/E) multiple of this group versus the S&P 500.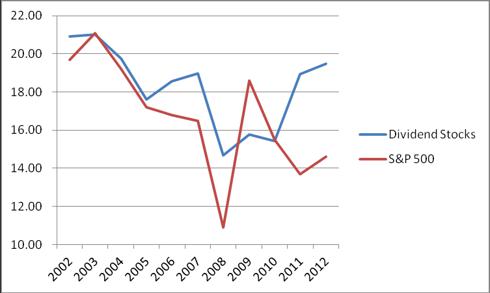 Click to enlarge
(Click to enlarge)
Going back to 2002, it is clear why dividend names have done so well and why they have beaten the market. The evidence however isn't exciting to potential investors of dividend stocks today. Yield-hungry buyers clearly are bidding up these names to very high relative levels, and near record absolute levels.
I have written about a couple of these names too, urging caution in buying McDonald's (NYSE:MCD) at $100 at the beginning of this year, and Verizon (NYSE:VZ) recently.
The next chart, which is essentially the P/E ratio of these dividend names, less the P/E of the S&P 500 over the past decade is very interesting and perhaps better illustrates the premium embedded in these dividend-payers today.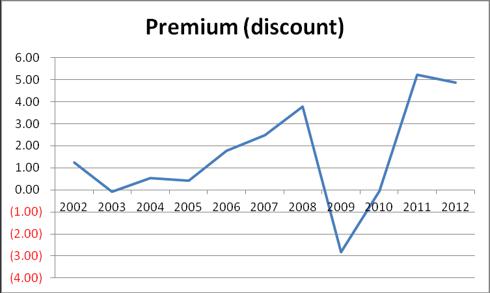 Click to enlarge
(Click to enlarge)
So, today this basket of dividend names is trading generally at 5 multiple points higher than the S&P500. Is it warranted? Perhaps, but the premium you are paying implies more risk. Whenever certain investing strategies become popular, that usually means that the strategy can only produce lower returns going forward. Remember how great spin-off and risk arb strategies used to be? Not anymore.
Honestly, I wouldn't expect dividend stocks to outperform the market over the next decade as they did in the last.
If you are looking to put money to work today, perhaps you should consider a bucket of names that are more out of favor.
Cyclical Stock Basket
I picked again a dozen or so stocks from the Morgan Stanley Cyclical Index. A sampling of names include Ingersoll Rand (NYSE:IR), FedEx (NYSE:FDX), Citigroup (NYSE:C), and Dow Chemical (NYSE:DOW). I did substitute DuPont (NYSE:DD) for Dow however, based on some anomalous P/E ratios. I also adjusted all of the P/E ratios to exclude unusual charges to the extent they made the data look out of whack.
So, here is the average P/E ratio of these names, compared to the S&P 500 going back a decade.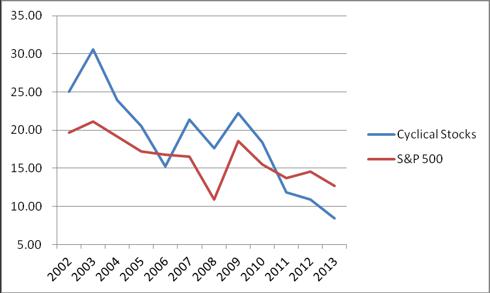 Click to enlarge
(Click to enlarge)
And again, here is the Cyclical stocks P/E ratios, LESS the S&P 500's P/E ratio: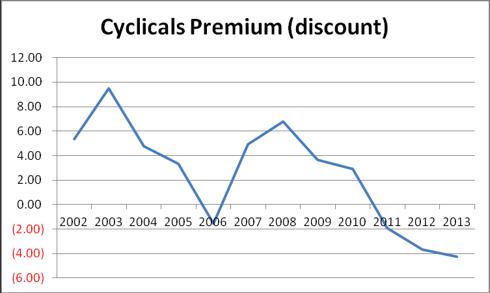 Click to enlarge
(Click to enlarge)
It's pretty much the exact opposite of the valuation chart for the dividend basket. Until 2011, cyclical names typically traded at a premium to the market, probably under investor's assumption that economic growth would be quite strong in the future.
While cyclical names have generally declined in their multiples relative to the market, over the same period defensive dividend stocks have continued to increase. The contrast which I illustrate below is quite striking.
Conclusion
The market clearly is baking in a terrible recession, perhaps one that lasts for years. It is notable that from 2002 to 2010, dividend stocks traded at an average of a 0.8 multiple point premium to the S&P (i.e. if the market traded at 14x, these names traded at 14.8x).
Things changed in 2011 however, and today the S&P commands a 14.6x multiple of trailing twelve month earnings (TTM), and the dividend basket trades at 19.5x TTM earnings!
On the other hand, the cyclical basket through 2010 traded at an average premium to the S&P of 4.4 multiple points (i.e., a 14x P/E for the S&P equated to a 18.4x multiple for the basket). The reversal has been swift and painful as many of these holders can attest. Now they trade around 4 multiple points cheaper than the market.
Here is a chart taking the dividend stocks P/E ratios, and then subtracting out the cyclical stocks P/E ratios going back to 2002.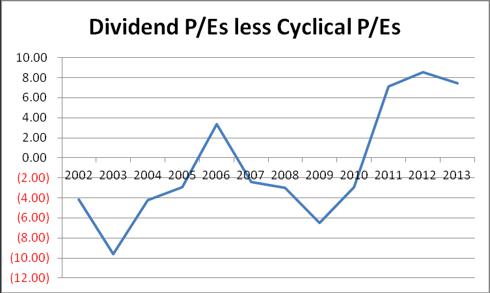 Click to enlarge
(Click to enlarge)
Using forward 2013 estimates for the group, the above shows the difference between the dividend stocks P/E multiple of 16x 2013 earnings, less the 8.5x 2013 P/E multiple of the cyclical names. That gets you 7.5x.
That is simply a huge earnings multiple differential. If we get QE3 soon, which in my opinion is inevitable given the U.S.'s inability to sell enough Treasuries to finance our deficits, then that could spur a substantial rally in some of these cyclicals. A whiff of inflation resulting from that could also dent the yields on the dividend stocks.
The market must also be assuming big earnings misses next year. But even adjusting for 20% lower earnings across the cyclical names (i.e. assuming 20% higher P/E ratios), then the 2013 cyclicals are still trading at 10.1x earnings, versus 15.9x earnings for the dividend names. That would put the differential at 5.8, still near historical highs. That 10.1x P/E multiple would also still be the lowest absolute P/E that this sector has seen in the past decade.
While personally not a fan of say steel and iron ore names given China's building boom winding down, it seems names like Fedex, or Magna (NYSE:MGA) or Eaton (NYSE:ETN) warrant further investigation. Magna trades at a mere 7x earnings and a 2.83% dividend yield, and Eaton trades at 8.2x and carries a 3.7% dividend yield.
I like the idea of cyclical dividend names, and perhaps will write more on some specific ones if I buy any.
Finally, below I provide the data. Much of it came from Morningstar's website, the rest from 10K's of the companies.

Click to enlarge
(Click to enlarge)

Click to enlarge
(Click to enlarge)
I am sure that many will argue that mean reverting studies are worthless, or that 20 something names isn't enough for a scientific study. Fine. But I think it is worth providing a contrarian view to the market. Dividend stock holders piling into defensive names right now looking for yield really need to be cautious.
And for the record, using the median multiples didn't really change the conclusions here.
Disclosure: I have no positions in any stocks mentioned, and no plans to initiate any positions within the next 72 hours. I may purchase any of these names.