Hewlett-Packard (NYSE:HPQ) is selling at $17.78, which is a 7-year 11-month low. Will it sell for more in the future?
Market Cap:

$35.3 billion

Free-Cash-Flow 2011:

$8.5 billion

Free-Cash-Flow TTM:

$5.6 billion

Free-Cash-Flow Yield 2011:

25%

Free-Cash-Flow Yield TTM (2011 Q3 & Q4 and 2012 Q1 & Q2):

16.7%

Free-Cash-Flow = NI + Depreciation + Amortization - Capital Expenditures
Public Opinion verse Statistics
If we knew that HP's free-cash-flow each year over the next 20 or 30 years would be equal to the cash flow for 2011, then we could say that HP is an excellent investment yielding 25% annually. So from a perpetual cash-flow stand point, it is undervalued. Therefore the question becomes: can it maintain its 2011 free-cash-flow earning power?
Share price, and therefore opinion, suggests it cannot. Otherwise it would not appear so inexpensive (4.15 P/FCF). And at first glance, its trailing twelve month measurement casts some additional doubt. But the trailing-twelve-month figures are partially obscured by the fact that they could not ship all computers demanded because of the hard disk drive shortage in the middle of the TTM period.
Four possible reasons for the present opinion about HP
First, HP missed the boat when it comes to mobile computing. In 2011, Intel received 19% of its revenue from HP and Intel isn't to be seen (at least not yet) in the mobile market. HP is firmly in the "value-network" of X86 architecture and Windows. While plans are in the works to bring HP into the mobile computing fold, presently they are absent. If mobile improves and if ARM architecture catches up in performance to the X86-Windows-Intel-Dell-HP world, the movement away from Intel processors could put HP in a position where its expertise is lacking.
Second, the idea that we are in a "post-pc" world and HP has a consumer PC segment. This is pretty much an assumption that the Microsoft (NASDAQ:MSFT) Window's world is dead, a bet which is hard to make. For instance, sheer status quo bias will keep people on Window's X86 machines for a time. But it is also an attack on the quality of HP laptops, some of which are clearly behind in style (e.g., those in stock during my recent Staples (NASDAQ:SPLS) visit) The same cannot be said of HP's newest products however. There is also reason to think that PC sales might be a bright point towards the end of the year with the release of Windows 8.
Third: the rapid change of leadership. The board of directors appears fickle and sensitive to public opinion; for instance, the negative public reaction of HP's proposal to sell its PC division last year and the subsequent installment of Meg Whitman. The negative interpretation is that maybe the board cannot take short-term pain for the prospect of long-term gain. That being said, the board of today is not the board of 5 years ago-over half of the board members have only been part of the board for a year and a half.
And four, an overall ignorance of the how HP makes its money, which is the point of this article.
When people analyze customer-product companies, the customer product itself--that which we see and touch--seems to get a little bit more of the attention than it deserves. In the case of HP, 31% of 2011 revenue was from its "Personal Systems Group" ("PSG") which includes sales of its familiar notebooks, desktops, workstations and handhelds (the last of which are, perhaps, not so familiar). However, the operating margins of the PSG were the lowest of all the business segments at around 5.9%--which means that the three next largest business segments ("Services," "Imaging and Printing Group," and "Enterprise Servers, Storage and Networking") all contributed more to operating earnings than did PSG.
This is to say, the unpopular PSG represents only about 24% of operating earnings (and less by some accounts whose math I cannot reconcile with my own). If we assumed the whole segment contributes nothing in the future, and hypothesize that this equates to a 24% reduction in future free-cash-flow, then we have a future free-cash-flow estimate of $6.46 billion. Assuming the PSG business segment disappears (unlikely), HP still offers a free-cash-flow yield of 18.3% at today's prices (assuming, also, that 2011 FCF is more representative than TTM FCF).
What's more is that HP's strategy is to expand further into businesses in which it has a higher operating margin: Services, Imaging and Printing Group and Enterprise Servers, Storage and Networking. All three segments each contribute more to earnings than PSG. Further, all three segments grew from 2010 to 2011 (although, as of its second-quarter 10-Q (page 51), it has shrunk a bit from the three-month period ended April 30, 2011 to April 30, 2012).
(Note to those who will follow HP in the future, PSG and the Image and Printing group are being combined in a future reporting segment appropriately titled: "Printing and Personal Systems Group.")
Major Financial Trends: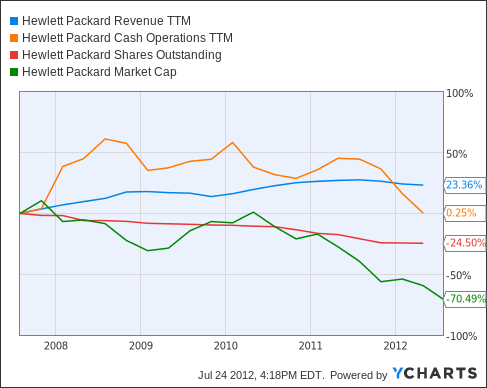 One can see the falling market cap, while revenue has increased and operating cash flow has held constant--all the while, shares outstanding have been reduced.
Most Recent HP History (in quotes from management's most recent Q2 conference call)
With much less impact from the HDD shortage, we executed well and achieved a 2-point sequential gain in worldwide PC market share in calendar Q1. In the process, we reclaimed the #1 share position for commercial globally and we also took the #1 position for commercial in the U.S. from a competitor who's held the top rank for more than 1 decade. (Emphasis added.)

As part of the restructuring, we expect to reduce the workforce by 27,000 positions by the end of 2014, which we'll achieve through a combination of layoffs and a voluntary early retirement program.
As for restructuring charges next year:
…through 2014, we expect the cash flow impact cumulatively to be about $2.7 billion.
Even if free-cash-flow for the coming years is more or less in line with free-cash-flow in 2011, 2012 and 2013 ought to expect a reduction of about $1.35 billion each. This too lowers the expected return of HP shares in the near term.
Only if the restructuring is successful and if HP is able to maintain its earning power is HP undervalued. But if it is undervalued, it is significantly undervalued. For instance, a loss of the entire PSG group would still result in a free-cash-flow yield of 18%. Or if the entire cash loss from the restructuring charge was to recur indefinitely year in and year out, the free-cash-flow yield would still be 16.4%. One of the major problems HP faces is an indirect long-term opponent: the possible decline of the X86 architecture at the hands of ARM architecture. That is, the greater movement to mobile and performance per watt processing. But at least HP still has the power to change processing architectures.
The fact that HP gained market share in the consumer and commercial side of the PSG group is a positive sign. Given the overall macro-environment, it is difficult to determine which part of its financial performance is a result of poor planning/management and which is a result of greater macro forces. But the market share increase is a positive data point which, in theory, is free from macro-effects and is therefore quite positive about HP's recent performance. Also, that HP servers and software were chosen for Vodafone (NASDAQ:VOD) [second largest mobile phone company in the world] and Verizon's (NYSE:VZ) [second largest phone company in America] cloud offerings last month is also a positive indicator about the company future.
These anecdotes don't imply that its future is secure but they do cast doubt on the overwhelmingly negative interpretation.
With HP's share price at a 2901-day low, it might be time to start thinking HP is oversold and undervalued.
Disclosure: I have no positions in any stocks mentioned, and no plans to initiate any positions within the next 72 hours.