I have been experimenting with a new volatility-centric sector rotation model that I may start talking about in more detail in this space in the coming weeks.
I mention this because the system generated a buy signal in BBH, the HOLDRS biotechnology ETF (NYSEARCA:BBH). While the system does not require a confirmation signal from today's trading, BBH is trading up with the broader markets today, albeit with a smaller percentage rise. The chart below shows that biotech actually bottomed in January and has not participated in the rally off of the March lows. Generally a healthy biotech sector is an indication of bullish speculative activity. As such, this is one of my 'indicator species' charts to watch. (Click to enlarge.)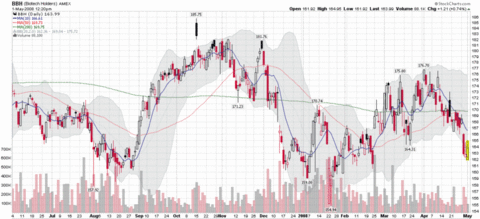 Disclosure: No position BBH.