On Wednesday, Corning Inc. (NYSE:GLW) reported its Q2 earnings. Net profit dropped 39% from one year ago, while revenue decreased by 5%. As a result, the market panicked and sold off shares of Corning, with the stock down 7.7% during the Wednesday session.
Click to enlarge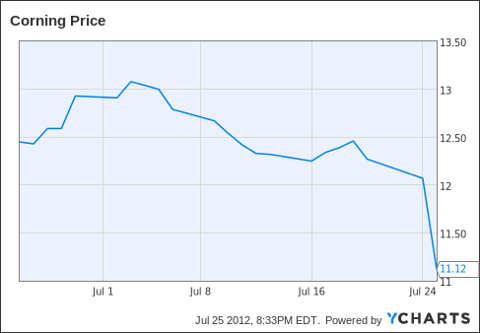 Was this sell-off justified? Is Corning a value trap destined to fool even the savviest of investors? Looking at the net profit cannot answer these questions. We need to look at the cash flow.
A Different Story
Below is the cash flow statement released by Corning as part of its Q2 earnings.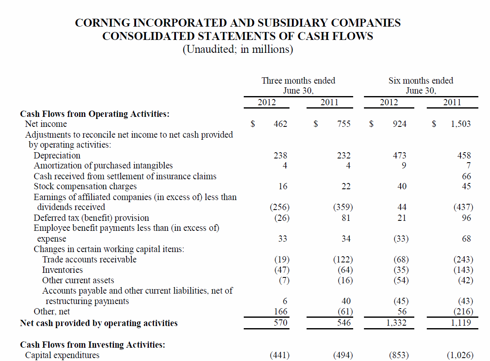 We see that net income decreased from $755 million in Q2 2011 to just $462 million in Q2 2012. But net income doesn't reflect the cash that Corning made in Q2, it's simply the accounting number that gets reported for tax purposes. What we want is the free cash flow. Free cash flow is simply the operating cash flow minus capital expenditures. For Q2 2011, the free cash flow was $52 million while for Q2 2012 the free cash flow was $129 million. Free cash flow tells an entirely different story than net income. The free cash flow increased, while the net profit decreased. So the sky isn't falling. Jumping ship because of one quarter that appears to be bad on the surface is both naive and foolish. Corning is doing just fine.
Conclusion
I've written a few times about Corning and estimated the fair value at a little over $15 per share. The Q2 results give me no real reason to think that my valuation is invalid. Corning is trading at substantially discounted levels, and while it may take a while for the market to correct this, Corning is a great long-term holding.
Disclosure: I am long GLW.