The National Association of Realtors (NAR) reported that pending home sales for June decreased by 1.4%. Analysts had expected a 0.9% increase. For May, the NAR originally reported an increase of 5.9%.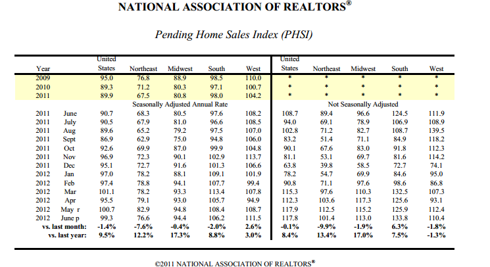 Lawrence Yun, NAR chief economist said
Buyer interest remains strong but fewer home listings mean fewer contract signing opportunities. We've been seeing a steady decline in the level of housing inventory, which is most pronounced in the lower price ranges popular with first-time buyers and investors.
Homebuilder stocks, such as PulteGroup, Inc. (NYSE:PHM), NVR Inc. (NYSE:NVR), and Ryland Group Inc. (NYSE:RYL), have been trending up recently on good news from the housing market. Today's news indicates that housing inventory remains tight.
In comparison with the prior-year month, sales increased 9.5% for June 2012. In the prior report, May 2012 sales were shown to have increased 13.3% versus the prior-year month.
Earlier this week, new-home sales dropped to 350,000, but this was still an increase of 15.1% versus the prior year. Housing prices, as reported by the Federal Housing Finance Administration (FHFA) and Zillow, improved. Zillow reported the first year-over-year increase in housing prices since 2007. It was also reported that the foreclosure rate is dropping, while the pace of foreclosure re-sales remains steady.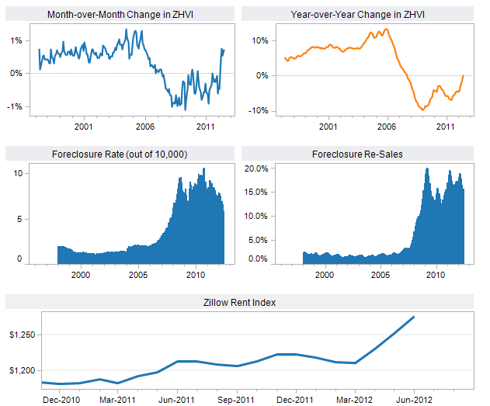 Next Tuesday, the Case-Shiller 20-city Index will be released, showing the change in home prices for May 2012. The FHFA reported a 0.8% increase for this same period.
Disclosure: I have no positions in any stocks mentioned, and no plans to initiate any positions within the next 72 hours.