Here's an interesting investment question: how does a company that has incurred losses since its inception in 1986 continue to build its product line and raise its annual revenue 26 years later? The answer: a slow, steady, conservative business plan that minimizes risk and operating costs. This is what InSite Vision (OTCQB:INSV) has been doing since its founding.
Its careful business strategy is a two-pronged approach. First, instead of taking on the FDA from scratch and developing a drug ex nihilo, InSite's business strategy utilizes opthalmic drugs already approved by the FDA and enhances them with its DuraSite technology. DuraSite lowers the amount of drops a patient needs of a certain drug by making the delivery of the drug more efficient. In this way, InSite facilitates FDA approval of its products by starting the race at midpoint.
Second, once InSite successfully fuses DuraSite with a drug and the FDA approves the new enhancement, the company outsources marketing and development to other big name companies, choosing to subsist on passive royalties on sales rather than the more ambitious strategy of marketing and developing the products themselves.
The downside is that they are closing themselves off to much larger potential revenue streams by passing on the legwork. The upside, however, is that they are minimizing risk substantially, choosing to rely on the slow-and-steady growth strategy that cuts operating costs to the bone.
Their longevity isn't necessarily a good thing, however. Being around so long, one would expect them to turn a profit by now. But we must take into account that they've only recently gotten their two moneymakers to market while their stock price is relatively near its historic lows.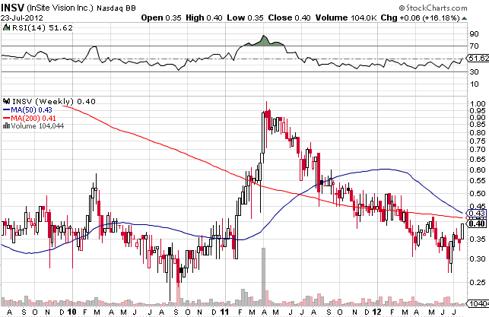 One is AzaSite, approved in 2007, a DuraSite enhanced treatment for pink eye developed and commercialized by Merck (MRK), the other, Besivance, approved in 2009, developed by Bausch and Lomb. (B&L incidentally may be going public again later this year with a reported valuation target of $3.67 billion after lawsuits related to their MoistureLoc contact lens solution have been settled for a collective $250MM. Presently, they are listed on the Nasdaq under ISTA Pharmaceuticals, which they own.) The vast majority of InSite's revenues come from Merck royalty checks for sales of Azasite, with $15 million in 2011, and $17 million in 2012 according to their 10-Q.
In order to become profitable, they'll need more successes with DuraSite enhanced hybrids, as with their current business strategy, the royalties they make on Azasite are not enough push them into profitability. They currently have two product candidates in the pipeline - AzaSite Plus and DexaSite for ocular inflammation - which are at the final Phase III clinical trials with the FDA. They also have another approaching Phase III - Bromsite for post-operative inflammation. But the possibilities don't end simply with the number of medications InSite has coming down the line. There are other directions to consider.
InSite's strategy is to improve the delivery of generic eyedrops with DuraSite. If, however, a company like Allergan (NYSE:AGN) takes notice of Durasite and enlists InSite to improve their medications in a profit-sharing venture, InSite's market could expand to patented drugs as well. This is just one possible example, the point being that the more DuraSite enhanced drugs reach market, the more attention DuraSite will attract from bigger companies who may want to take advantage of InSite's technology.
This is what is most interesting about INSV. The fact that their main product can be theoretically applied to many topical ophthalmic drugs gives the company many different possibilities for partnership with other companies. They've started with Merck. The question is what other big names will join the DuraSite fray?
Disclosure: I have no positions in any stocks mentioned, and no plans to initiate any positions within the next 72 hours.